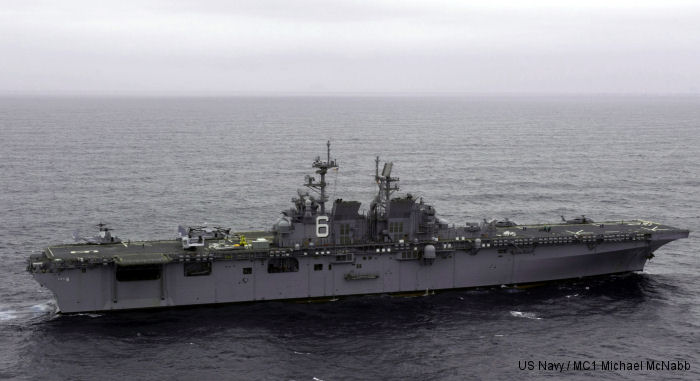 Formelly known as LHA(R), America is based on the the last ship of the Wasp class but with the well deck removed in order to give priority to aviation assets, more MV-22 Ospreys tilt-rotors and V/STOL F-35 fighters
The Max option implies only aircraft of this model onboard
2 units
2007-jun-1
Ordered
LHA-6 USS America
2009-jul-17
Laid down
LHA-6 USS America
2012-may-31
Ordered
LHA-7 USS Tripoli
2012-jun-4
Launched
LHA-6 USS America
2014-jun-22
Laid down
LHA-7 USS Tripoli
2014-aug
LHA-6 USS America maiden transit around South America, America visits Americas, MH-60S 167816
2014-sep-15
Homeport
LHA-6 USS America arrived at NB San Diego
2014-oct-6
Port Visit
LHA-6 USS America San Francisco Fleet Week 2014 in San Francisco at pier 30-32 for Fleet Week and commissioning during the event
2014-oct-11
Commissioned
LHA-6 USS America during Fleet Week in San Francisco
2017-may-1
Launched
LHA-7 USS Tripoli at Ingalls Shipbuilding
2019-jul-19
Trials
LHA-7 USS Tripoli Completed Builders Trials in Gulf of Mexico.
2020-jul-15
Commissioned
LHA-7 USS Tripoli Commissioned by Fleet Message, as ceremony was cancelled due to COVID19 precautions.
2020-sep-17
Deployment
LHA-6 USS America Exercising in Philippine Sea, part of 31st MEU, with V-22s of VMM-262 embarked.
2020-sep-18
Homeport
LHA-7 USS Tripoli Arrived at NS San Diego, after a trip around Cape Horn.