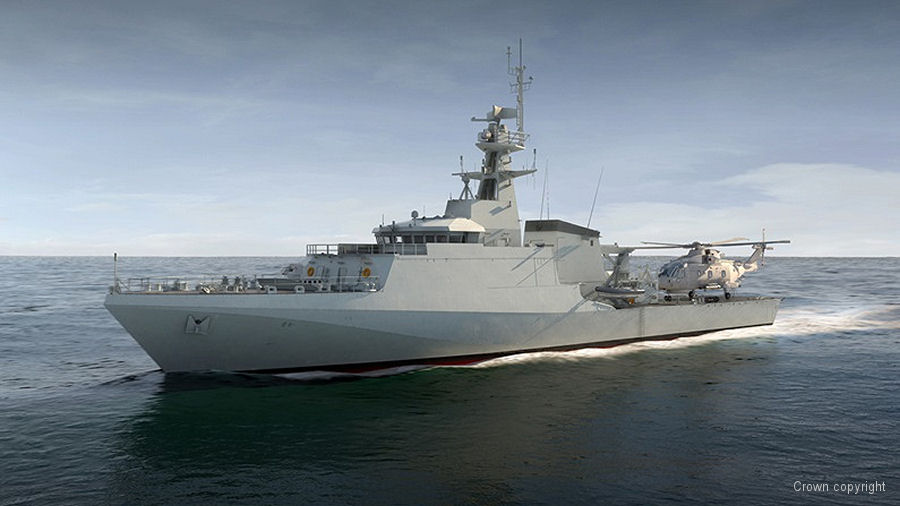 Order placed with BAE Systems in Aug 2014 for 3 Ocean Patrol Vessels. A further two were announced in the 2015 Strategic Defence and Security Review and order confirmed in Dec 2016. Built at Govan and most fitted out at Scotstoun.

The Max option implies only aircraft of this model onboard
5 units
2014-aug
Ordered
P222 HMS Forth
2014-aug
Ordered
P223 HMS Medway
2014-aug
Ordered
P224 HMS Trent
2014-oct-10
Laid down
P222 HMS Forth first steel cut at Govan on 10 Oct 2014
2015-jun-8
Laid down
P223 HMS Medway first steel cut Jun 2015.
2015-oct-7
Laid down
P224 HMS Trent
2016-aug-20
Launched
P222 HMS Forth at Govan
2016-dec-8
Laid down
P233 HMS Tamar Originally allocated pennant no P225
2016-dec-8
Ordered
P226 HMS Spey
2017-apr
Laid down
P226 HMS Spey
2017-oct-20
Launched
P223 HMS Medway at BAE Systems Scotstoun yard
2018-feb-26
Homeport
P222 HMS Forth Entered Portsmouth after a weekend in Stokes Bay
2018-mar-20
Launched
P224 HMS Trent at Govan
2018-apr-13
Commissioned
P222 HMS Forth Commissioned. Soon handed back to builders after significant serious faults uncovered. HMS Tyne (P281) was recommissioned in Aug 2018 while issues are rectified.
2018-oct-17
Launched
P233 HMS Tamar At Govan to complete fitting out. (Scotstoun at capacity, fitting out HMS Medway and HMS Trent).
2019-mar-22
P233 HMS Tamar Naming ceremony at Govan
2019-apr-9
Port Visit
P222 HMS Forth 9 Apr 2019, 1st visit to Plymouth
2019-jun-22
Port Visit
P222 HMS Forth Visiting Liverpool Cruise Terminal
2019-sep-7
Port Visit
P223 HMS Medway Arrived at RVD for DSEI 2019.