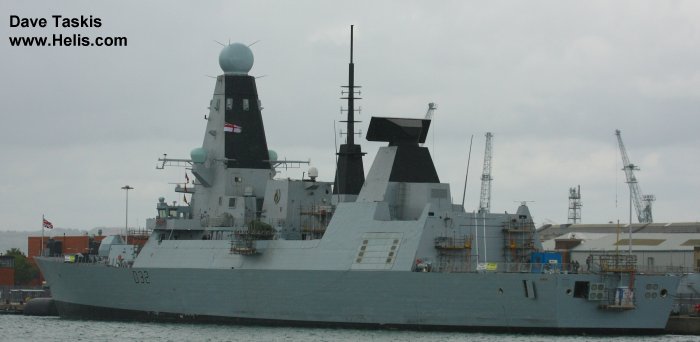 | | |
| --- | --- |
| IMO: | |
| MMSI: | 234585000 |
| Flight Deck: | DA |
| Call Sign: | GPLA |
| Shipyard: | Yarrow |
Add new event for this unit

| | |
| --- | --- |
| Year: | |
| Month: | <- (1/12) Optional |
| Day: | <- (1/31) Optional |
2000-jul
Ordered
2003-mar-23
Laid down
Yard No. 1061
2006-feb-1
Launched
2009-jan
Homeport
arrived at HMNB Portsmouth from BAE Systems
2009-jan
Aircraft
assigned Merlin HM.1 ZH840 (loan ?) as Daring Flt, until Mar.
2009-jul-23
Commissioned
2010-feb
Aircraft
assigned 815 Sq Lynx HMA.8 ZD261 as Daring Flt / 451 by Feb 2010 until c Jul 2010
2010-sep
Aircraft
assigned 815 Sq Lynx HMA.8 XZ736 as Daring Flt / 451-DA until c Nov 2010
2010-sep-9
SMC Marchwood Accident during berthing at Marchwood, collided with tug Svitzer Sussex suffering some damage down one side near the waterline.
2011
Trials
included firing the Sea Viper (PAAMS) and fitting the Phalanx CIWS
2012-jan-11
Deployment
Maiden Deployment departed HMNB Portsmouth for a 7 month Persian Gulf and Indian Ocean maritime security deployment with 815 Sq 200 Flt Lynx HMA.8, to relieve HMS Argyll. Relieved on station by HMS Diamond and returned to Portsmouth on 1 Aug.
2012-jan-26
Deployment
Souda Bay Range Souda Bay work up at Souda Bay, Crete while transiting the Mediterranean
2012-jan-30
Deployment
Suez Canal Ismailia transit through Suez Canal bound for Persian Gulf and Indian Ocean
2012-jun-14
Port Visit
Port Sultan Qaboos Muscat visited Port Sultan Qaboos for 3 days, prior to being relieved in the Gulf by HMS Diamond.
2013-may-28
Deployment
departed HMNB Portsmouth for 9 month global deployment, with 815 NAS 200 Flight Lynx HMA.8 /451-DA assigned. Returned to HMNB Portsmouth on 28 Feb 2014
2013-jun
Deployment
first Type 45 to transit the Panama Canal, then first Type 45 to operate in the Pacific Ocean.
2013-oct-3
Port Visit
HMAS Kuttabul IFR 2013 International Fleet Review Sydney 2013 Present at 100th anniversary of the RAN Fleet Review
2013-nov-18
Deployment
Visayan Sea Typhoon Haiyan relief operations (ordered to Philippines from Singapore on 12 Nov). Arrived in the Philippines on 18 Nov to commence the humanitarian mission around the islands of the Visayan Sea, to assist after Typhoon Haiyan. Relieved by HMS Illustrious on 25 Nov.
2013-dec-11
Port Visit
4 day visit to Shanghai
2013-dec-18
Port Visit
Tien Sa visited Tien Sa Port (Da Nang city) in Vietnam, until 21 Dec.
2014-feb-17
Port Visit
Grand Harbour / il-Port il-Kbir / Valletta first visit to Malta
2016-jul-8
Port Visit
Little Russel, Guernsey Guernsey visited Guernsey, CI for weekend
2016-sep-2
Deployment
Operation Kipion departed HMNB Portsmouth for 9 month Gulf and Middle East maritime security deployment, with Wildcat HMA.2 of 204 Flt 825 NAS embarked. Returned to Portsmouth 12 May 2017
2020-jun
Refit
HMD Portsmouth entered dry dock in Portsmouth; refloated on 17 Jun 2021.
2021-sep-15
Refit
Cammell Laird PIP Left HMNB Portsmouth under tow for propulsion upgrade (Power Improvement Plan) on Merseyside at Cammell-Laird. Arrived 20 Sep.
The Max option implies only aircraft of this model onboard

Yarrow, Scotstoun