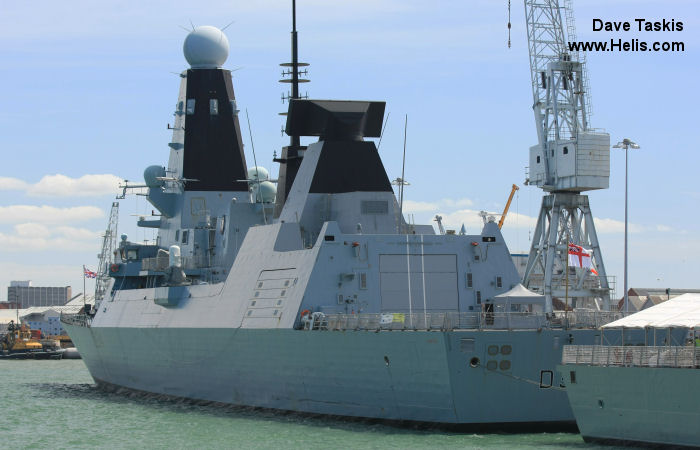 | | |
| --- | --- |
| Flight Deck: | DM |
| Call Sign: | GPLC |
Add new event for this unit

| | |
| --- | --- |
| Year: | |
| Month: | <- (1/12) Optional |
| Day: | <- (1/31) Optional |
2000-jul
Ordered
2005-feb
Laid down
2007-nov-27
Launched
2010-sep-22
Homeport
arrived at HMNB Portsmouth
2011-may-6
Commissioned
Commissioned at HMNB Portsmouth.
2012-jun-13
Deployment
Departed HMNB Portsmouth on her maiden deployment for a Gulf and Middle East mission, relieving HMS Daring. Returned to Portsmouth on 21 Dec 2012
2012-oct-10
Aircraft
First of type operations for a Type 45 of Sea King ASaC.7 at sea, from 854 NAS in the Persian Gulf.
2014-jan-29
Deployment
departed HMNB Portsmouth for 7 month, 2nd Gulf deployment, relieved HMS Montrose on station in the Eastern Mediterranean on 26 Feb and was involved in force protection operations (Danish and Norwegian ships of Task Group 420) for ships removing chemical weapon stocks from Syria. Relieved in Mediterranean by HMS Defender in early Jul and returned to HMNB Portsmouth on 11 Jul.
2014-jul
Refit
HMD Portsmouth CUP Mk 141 quad Harpoon entered 15 month Capability Update Period with BAE Systems at HMD Portsmouth, until Mar 2015. Included Harpoon ASM, communications upgrade, improved high pressure air and salt water systems and a new gas turbine. Post refit trials until c Oct 2015
2014-jul-5
Port Visit
Visit to Gibraltar whilst returning to HMNB Portsmouth
2015-nov-6
Port Visit
weekend visit to Aberdeen for Remembrance Sunday, departing 10 Nov.
2015-nov-12
Port Visit
1st Type 45 to visit Antwerp, until Mon 16 Nov.
2016-feb-20
Port Visit
Hall Russell visited Aberdeen for weekend with gift from people of Stavangar, Norway
2016-aug-31
Deployment
off Libya Operation Sophia departed HMNB Portsmouth for 2 month Mediterranean anti-arms and human trafficking deployment, to relieve RFA Mounts Bay.
2017-sep-4
Deployment
SNMG2 departed HMNB Portsmouth for 9 month Middle East and Gulf maritime security and anti-piracy deployment, to relieve HMS Monmouth. Wildcat HMA.8 ZZ380 embarked. Diverted to take flagship role of NATO SNMG2 in Mediterranean and Black Sea, from HMS Duncan on 20 Sep.
2018-sep-5
Port Visit
Gdynia visited Gdynia 5 - 8 Sep 2018 with Wildcat HMA.2 ZZ413 embarked.
The Max option implies only aircraft of this model onboard

Kvaerner (Govan), Govan