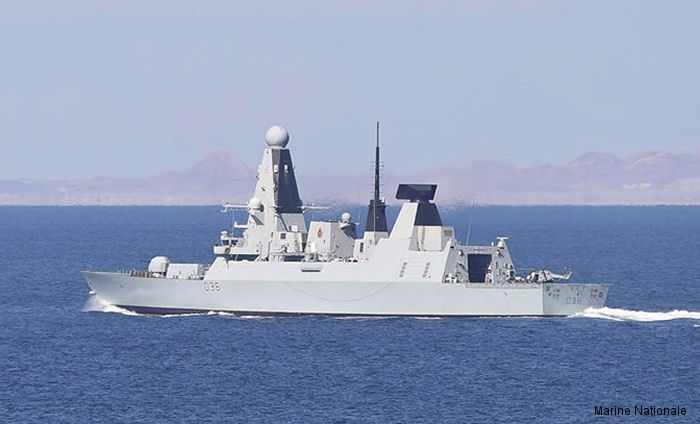 | | |
| --- | --- |
| | |
| IMO: | 4907878 |
| MMSI: | 235053421 |
| Flight Deck: | DF |
| Call Sign: | GMIB |
| Shipyard: | Kvaerner (Govan) |
2002-feb-18
Ordered

Ordered

2006-jul
Laid down

Laid down

Yard no. 1065
2009-oct-21
Launched

Launched

2012-jul-25
Homeport

Homeport

Arrived in Portsmouth for formal handover from the builders.
2013-mar-21
Commissioned

Commissioned

at HMNB Portsmouth
2013-sep-10
Aircraft

Aircraft

HMD Devonport at Plymouth with Merlin ZH846 on flight deck
2014-jun
Deployment

Deployment

Combined Task Force 151 departed UK on maiden deployment with 815 NAS Lynx HMA.8 from 217 Flight embarked. Joined CTF151 for maritime security and anti-piracy mission around the Persian Gulf and Horn of Africa. Returned to HMNB Portsmouth on 12 Dec.
2014-dec-01
Port Visit

Port Visit

Grand Harbour / il-Port il-Kbir / Valletta first visit to Malta
2015-apr-22
Port Visit

Port Visit

Greenwich Reach

Greenwich Ship Tier

6 day visit to London to participate in centenary of Gallipoli celebrations. 815 NAS Defender Flt Lynx HMA.8 ZD268/365 embarked. Departed 28 Apr.
2015-jun-22
Deployment

Deployment

operated with RAF II(AC) Sq Typhoon for air-maritime integration exercises in the English Channel, for a week.
2015-oct-19
Deployment

Deployment

Operation Kipion

departed HMNB Portsmouth for 9 month Gulf and Middle East deployment. Lynx HMA.8 from 815 NAS joined in English Channel. To relieve HMS Duncan on station. Returned to Portsmouth on 9 Jul 2016.
2015-dec
Deployment

Deployment

Opération Chammal Joined French-led Task Group 473 in Indian Ocean on anti-terrorism mission.
2015-dec-17
Deployment

Deployment

Arabian Sea escorting french carrier Charles de Gaulle in Arabian Sea/Persian Gulf
2016-feb-09
Deployment

Deployment

off Ramakrishana Beach Represented Royal Navy and UK at the Indian Navy International Fleet Review at Visakhapatnam, on the Bay of Bengal
2016-may-19
Deployment

Deployment

Eastern Mediterranean

Egyptair MS804

joined international search effort for Flight MS804
2016-oct
Refit

Refit

HMD Portsmouth Refitting at HMD Portsmouth to resolve T45 propulsion issues, thorugh the Power Improvement Project. Back to sea trials Apr 2018
2019-mar-02
Deployment

Deployment

Escorted RFS Admiral Gorshkov and her support group through North Sea and English Channel, en route Mediterranean
2019-aug
Deployment

Deployment

deployed to Middle East, with 815 NAS 209 Flt Wildcat HMA.2 embarked. Included a large narcotics interdiction during Dec 2019 in the northern Arabian Sea.
2020-jun-24
Aircraft

Aircraft

815 NAS 219 Flt Wildcat HMA.2 embarked during Middle East deployment
2020-sep-21
Deployment

Deployment

North Western Approaches

JW 20-2

Exercise Joint Warrior 20-2 Participated in Ex Joint Warrior 20-2 off NW Scotland. 815 NAS 219 Flt Wildcat HMA.2 embarked.
2021-apr-28
NEWS
UK Carrier Strike Group to Visit 40 Countries
2021-may-01
Deployment

Deployment

HMNB Portsmouth departed HMNB Portsmouth for Exercise Strike Warrior and Operation Fortis 21 as part the HMS Queen Elizabeth Carrier Strike Group.
2021-jun-18
Port Visit

Port Visit

Odessa

CSG21

Visit to Odessa with HNLMS Evertsen, as part of her CSG21 deployment and departed just before midnight.
2021-jun-23
Deployment

Deployment

off SW Crimea

FoN exercise

Freedom of Navigation deployment to Black Sea, challenged by Russian Federation Naval, Coast Guard and Air forces.
2021-jul-07
Deployment

Deployment

Suez Canal

CSG21

Transit of Suez Canal from Mediterranean, with CSG21 main force.
2021-aug-06
Port Visit

Port Visit

Naval Base Guam

CSG21

arrived in Guam as part of HMS Queen Elizabeth group
2021-oct-26
NEWS
East China Sea Royal Navy Wildcat Tests Martlet Missile
2022-jun-17
Port Visit

Port Visit

Tirpitzhafen

Kiel Week 2022

alongside for the 141st Kieler Woche.
2023-mar-25
Refit

Refit

HMD Portsmouth CAMM (M) Sea Ceptor entering major refit for c 4 years, to fit SeaCeptor and have the Propulsion upgrade.
Add new event for this unit

| | |
| --- | --- |
| Year: | |
| Month: | <- (1/12) Optional |
| Day: | <- (1/31) Optional |
Aircraft

Kvaerner (Govan)
, Govan