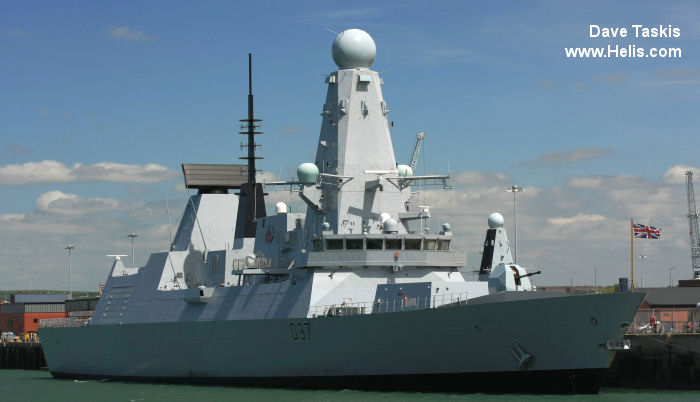 | | |
| --- | --- |
| Flight Deck: | DU |
| Call Sign: | GMIC |
Add new event for this unit

| | |
| --- | --- |
| Year: | |
| Month: | <- (1/12) Optional |
| Day: | <- (1/31) Optional |
2002-feb-18
Ordered
2007-jan
Laid down
2010-oct-11
Launched
on anniversary of the 1797 Battle of Camperdown, where Admiral Duncan defeated the Dutch
2013-mar-22
Homeport
Handed over to RN at HMNB Portsmouth, after departing BAE Systems Scotstoun on 19 Mar
2013-jul-26
Port Visit
first Type 45 Destroyer to visit Falmouth
2013-sep-26
Commissioned
at HMNB Portsmouth
2014-jul-26
Port Visit
Belfast Harbour visited Belfast, departed 29 Jul.
2014-sep-2
Port Visit
Roath Basin NATO summit visited Cardiff, with other warships, in support of 2 day NATO Defence Ministers summit in Newport.
2014-oct-8
Deployment
Joint Warrior Exercise Joint Warrior 14-2 participant in Exercise JW 14-2 from Irish Sea around northern coast of UK, to Moray Firth.
2015-feb-6
Port Visit
North Shields Northumbrian Quay visited Tyneside at Northumbrian Quay until 9 Feb.
2015-mar
Port Visit
visited Gibraltar, with Lynx HMA.8 ZF560/456 embarked.
2015-mar-2
Deployment
Operation Kipion departed HMNB Portsmouth for 9 month maritime security operations in the Mediterranean, Black Sea and the Gulf with 815 NAS 219 Flt Lynx HMA.8 embarked. Included escort duty as part of USS Theodore Roosevelt Carrier Group and intensive Wildcat trials (qv) in Sep. Relieved by HMS Defender in mid Nov and arrived back in HMNB Portsmouth on 27 Nov
2015-sep-17
NEWS
Persian Gulf Royal Navy Wildcat in Gulf Heat Trials
2015-nov-8
Port Visit
Constanta Naval Base visited Constanța for 3 days
2015-nov-12
Port Visit
Visited Burgas for weekend
2016-apr-10
NEWS
RAF Leeming UK-French Griffin Strike Amphibious Exercise
2016-may-5
Port Visit
Hamburg Port 827th Hamburg Hafengeburtstag visited Hamburg for 2016 Harbour Day Festival
2016-may-20
Port Visit
West India Dock (TQ) Jutland 100 weekend visit to London with Ship open to Visitors on 21 May. 815 NAS 212 Flight Wildcat HMA.2 ZZ376 ranged on deck. Departed 26 May.
2016-jun-22
Port Visit
Cruise Terminal AFD 2016 visit to Liverpool for Armed Forces Day celebrations
2016-oct-20
Deployment
Deployed to assist HMS Richmond in escorting the Kutnetzov Task Group through the North Sea and English Channel.
2017-jun
Aircraft
SNMG2 flagship of Standing NATO Maritime Group 2 (SNMG2) , Wildcat ZZ531 embarked. Relieved by HMS Diamond on 20 Sep.
2017-sep
Deployment
SNMG2 Relieved HMS Ocean at short notice, as flagship for NATO SNMG2.
2017-sep-14
Deployment
SNMG2 exercising with FNS La Fayette, HS Limnos and HS Kountouriotis.
2017-sep-23
Deployment
Returned to HMNB Portsmouth after SNMG2 deployment
2018-jan-8
Deployment
Departed HMNB Portsmouth for 6 month Mediterranean and Black Sea deployment, followed by Operation Kipion in the Gulf. Returned to Portsmouth 13 Jul 2018.
2018-may-21
Port Visit
Poti SNMG2 Visited Poti to commemorate fallen British servicemen in the Batumi British Military Cemetery.
2018-jun
Aircraft
Exercise Swordfish 2018 Wildcat HMA.2 ZZ396 embarked, callsign Highlander
2019-mar
Deployment
Mediterannean SNMG1 departed HMNB Portsmouth for 6 month Mediterannean mission. 815 NAS, 202 Flight Wildcat ZZ414 embarked. After being diverted from NATO SNMG1 assignment, patrolled Strait of Hormuz. 202 Flt disembarked for Yeovilton on 27 Sep and Duncan returned to Portsmouth on 28 Sep
2019-jul-9
Deployment
departed Odessa in the Black Sea, to participate in Exercise Sea Breeze
2019-jul-18
Deployment
Strait of Hormuz (choke) Operating in Persian Gulf to assist British shipping passing the Strait of Hormuz, during a period of heightened international tension around the Persian Gulf between Bandar Abbas and the UAE.
The Max option implies only aircraft of this model onboard

Kvaerner (Govan), Govan