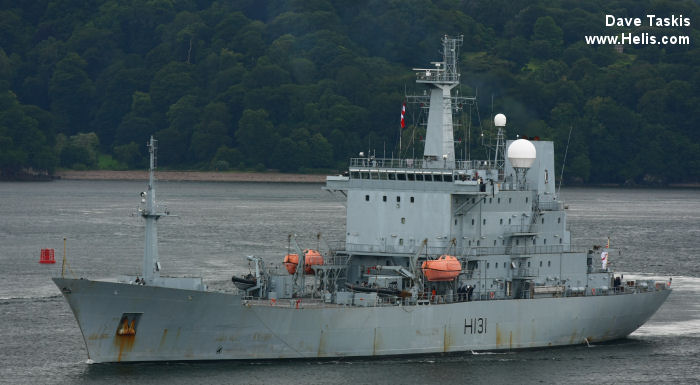 | | |
| --- | --- |
| Flight Deck: | |
| Call Sign: | GCUP |
Add new event for this unit

| | |
| --- | --- |
| Year: | |
| Month: | <- (1/12) Optional |
| Day: | <- (1/31) Optional |
1995-jan-20
Ordered
to replace HMS Hecla as an Ocean-going survey ship
1996-oct-13
Launched
1997-jun-30
Commissioned
2004-nov
Deployment
departed HMNB Devonport for survey and data gathering missions in North Atlantic, Arabian Gulf and Indian Ocean returing in Apr 2005.
2006-jul
Port Visit
Visit to Maritime Museum, Halifax, NS
2007-jun
Port Visit
Visit to HMCD Halifax, NS
2008-jul-13
Port Visit
Grand Harbour / il-Port il-Kbir / Valletta visit to Malta
2008-aug
Refit
10 month refit, completing in May 2009
2009-sep-5
Port Visit
HMD Devonport Navy Days 2009 present at Plymouth Navy Days 2009.
2012-apr-27
Port Visit
Visit to HMCD Halifax, NS
2012-jul-27
Port Visit
Bedford Basin Visit to Halifax, NS until 4 Aug.
2012-dec-21
Deployment
departed HMNB Devonport for 3 month survey deployment to the Red Sea and Gulf of Aden. Returned to Devonport on 3 Apr 2013.
2013-oct-21
Refit
HMD Devonport Arrived at Babcock Devonport for 7 month refit, until May 2014. Major work on sewage treatment plant, two new lifeboat davits, upgrades to sonar suite and an overhaul of the salt water system.
2018-may-5
Refit
HMD Rosyth Arrived at Rosyth for 6 month refit, until 27 Nov.
2019-dec-25
Deployment
Punta Arenas Harbour at Punta Arenas during search for missing Chilean Air Force C-130.
from Scott class
52
crew
13500
full load (tn)
131.10
length (m)
21.50
beam (m)
9
draught (m)
17.50
max speed (knots)