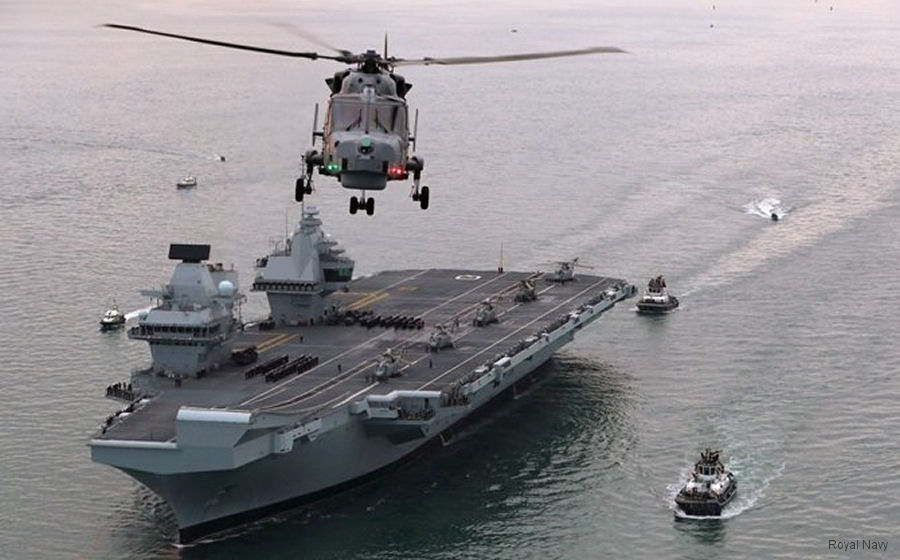 | | |
| --- | --- |
| IMO: | 4907892 |
| MMSI: | 235107775 |
| Flight Deck: | Q |
| Call Sign: | GQLZ |
Add new event for this unit

| | |
| --- | --- |
| Year: | |
| Month: | <- (1/12) Optional |
| Day: | <- (1/31) Optional |
2008-may
Ordered
2009-jul-7
Laid down
Assembled at Babcock Rosyth, from modules built by BAE Systems (Glasgow), BAE Systems (Portsmouth), Babcock (Appledore), A & P Tyneside and Cammell Laird
2014-jul-4
Launched
Naming Ceremony. Dry dock flooded at Babcock Rosyth, after modular construction and cleared No. 1 Dock on 17 Jul
2015-jun-30
NEWS
HMD Portsmouth Portsmouth Harbour To Be Dredged For QEC Carriers
2017-jun-29
Trials
off Dunbar Trials departed HMD Rosyth for 6 week manufacturer Phase 1 trials, with HMS Sutherland as escort.
2017-jul-04
NEWS
Merlin First aircraft to Land on HMS Queen Elizabeth
2017-jul-7
Trials
Cromarty Firth Repairs Extended stay at Invergordon for replenishement and to make repairs following a defect during sea trials.
2017-aug
Homeport
arrived at HMNB Portsmouth shortly before 18th, as Homeport.
2017-dec-7
Commissioned
HMNB Portsmouth Commissioned at HMNB Portsmouth
2017-dec-07
NEWS
HMNB Portsmouth Royal Navy's HMS Queen Elizabeth Commissioned
2018-jan-31
NEWS
820 Squadron Getting Ready For HMS Queen Elizabeth
2018-feb-6
Port Visit
Gibraltar Harbour At Gibraltar North Mole during trials
2018-feb-8
Aircraft
embarked two Qinetiq Chinooks for working up trials, including ZH902.
2018-feb-08
NEWS
Chinook First Time On HMS Queen Elizabeth Hangar
2018-mar-21
NEWS
Merlin and Chinook Trials on HMS Queen Elizabeth
2018-aug-18
Deployment
WESTLANT 18 departed HMNB Portsmouth on maiden deployment for 11 week WESTLANT 18 exercise off east coast of USA. Accompanied by HMS Monmouth and RFA Tiderace, she also has 3x Merlin HM.2 from 820 NAS which embarked in the preceeding week plus part of 42 CDO Royal Marines to conduct amphibious exercises. Before leaving UK waters, 3x Merlin HC.4 of 845 NAS (Furious Flt) embarked on 20 Aug (including ZJ129 / N). Main objective is to determine operating parameters for the F-35B, which will embark for the 1st time. Shadowed along the western English Channel by RFS Admiral Makarov.
2018-aug-20
NEWS
HMNB Portsmouth Merlin Mk4 Deck Quals on HMS Queen Elizabeth
2018-sep-17
Port Visit
NS Norfolk WESTLANT18 Visited NS Norfolk after cruising to avoid path of Hurricane Florence. To join with HMS Monmouth.
2018-sep-25
Aircraft
WESTLANT 18 1st landing aboard by F-35B (USN BF-04 from VX-23), flown by a Royal Navy pilot.
2018-oct-11
NEWS
Osprey and Sea Dragon on HMS Queen Elizabeth
2019-sep-26
Deployment
WESTLANT19 Operating off US east coast, escorted by HMS Dragon, HMS Northumberland and RFA Tideforce during WESTLANT19. Returned to HMNB Portsmouth on 4 Dec.
2020-sep-21
Deployment
North Western Approaches JW 20-2 Exercise Joint Warrior 20-2 Participated in Ex Joint Warrior 20-2 off NW Scotland
2021-mar-15
Port Visit
Glen Mallan at Glen Mallan for storing, departed 20 Mar.
2021-apr-27
Aircraft
CSG21 embarked 4 Merlin HM.2 and 3 Crowsnest Merlin of 820 NAS in preparation for CSG21 Indo-Pacific deployment.
2021-apr-28
NEWS
UK Carrier Strike Group to Visit 40 Countries
2021-jun-29
Port Visit
Akrotiri Bay CSG21 Moored off Limassol, after Black Sea operations
2021-jul-7
Deployment
Suez Canal CSG21 Transit of Suez Canal from Mediterranean, with CSG21 main force.
The Max option implies only aircraft of this model onboard

HMD Rosyth, Rosyth