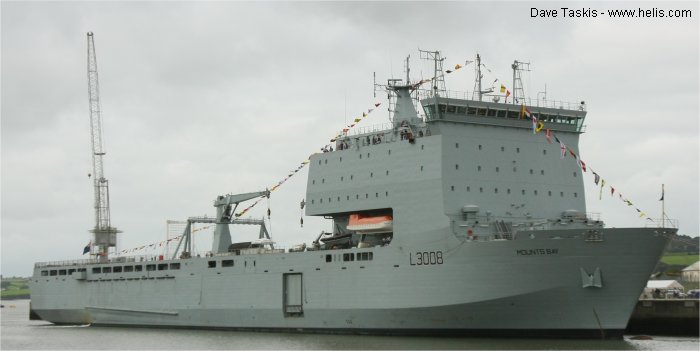 | | |
| --- | --- |
| Flight Deck: | MB |
| Call Sign: | GCIC |
Add new event for this unit

| | |
| --- | --- |
| Year: | |
| Month: | <- (1/12) Optional |
| Day: | <- (1/31) Optional |
2002-jan-14
Laid down
Kvaerner had become part of BAE Systems by this time
2004-apr-19
Launched
2006-jul
Homeport
accepted from builders at Falmouth
2006-sep-15
Commissioned
at Falmouth
2006-oct-11
Deployment
Freetown Port Sierra Leone Operation Vela (Green Eagle) in support of Exercise Green Eagle phase of Operation Vela, off Sierra Leone
2008-oct-4
Deployment
North Western Approaches Exercise Joint Warrior 08-2 participated in bi-annual multi-national exercise off Scottish coast, until 17 Oct
2011-apr
Deployment
Operation Unified Protector departed UK for Mediterranean with HMS Ocean as part of Response Force Task Group in support of possible operations against Libya.
2011-oct-2
Port Visit
Arrived in Falmouth for a week-long visit, departing on 9 Oct.
2011-oct-25
Deployment
Staff College Sea Days 2011 Supported HMS Bulwark in demonstration Royal Marine assault on Browndown Beach, near Gosport.
2012-jul-24
Deployment
Portland Harbour took up station off Weymouth in support of Police maritime security operations for the London 2012 Olympic sailing events. Supported by HMS Bulwark.
2012-oct
Deployment
departed UK for 3 month Cougar 12 deployment in the Mediterranean
2013-jun-10
Trials
embarked 700(W) NAS for day and night Wildcat landing trials off Portland
2013-aug
Deployment
Cougar 13 departed UK for Middle East support duties as part of Ex Cougar 13.
2015-jan
Refit
refit at A&P Falmouth for updates to machinery, accommodation areas and sick bay.
2015-nov-17
Trials
Operational assessment following work up after refit.
2016-jan-7
Deployment
departed Falmouth to SMC Marchwood for loading, prior to sailing for the Mediterranean on amphibious support deployment. To be joined on station by an 825 NAS Wildcat.
2016-mar-5
Deployment
SNMG2 825 NAS Wildcat (from Seeb) to join with ship for NATO SNMG2 deployment in Aegean Sea, between Greece and Turkey.
2016-may-5
Aircraft
RAF Gibraltar assigned 825 NAS Wildcat HMA.2 ZZ522 as ships flight
2016-sep-19
Deployment
JEFM2016 Joint Expeditionary Force (Maritime) 2016 joined JEFM2016 in support of HMS Ocean and HMS Bulwark.
2017-jun-30
Deployment
Fort Saint-Louis APT(N) Departed Falmouth for Caribbean on 11 Jun as APT(N) to relieve RFA Wave Knight on station at Fort de France. 815 Sq 216 Flt Wildcat HMA.2 ZZ530 embarked. Returned to UK on 24 Nov 2017.
2017-jul-8
Deployment
George Town HSB Landed vehicles and stores via Mexflotte on Governors Beach, while anchored in Hog Sty Bay.
2017-sep-6
Deployment
Sandy Ground Hurricane Irma relief Hurricanes Irma, Jose and Maria Relief Operations stationed off Sandy Ground, Anguilla for relief operations in Hurricane Irma aftermath
2017-sep-22
Deployment
Rescue Hurricanes Irma, Jose and Maria Relief Operations launched embarked Lynx, to rescue souls from capsized vessel off Puerto Rico, after Hurricane Maria had swept through.
2019-mar-17
Deployment
NS Norfolk US EODG2 arrived in Norfolk, VA for a two week mine countermeasure trial, with a US Navy embarked team from its Explosive Ordnance Disposal Group 2. In support will be HSC-2 and HSC-28 both from NAS Norfolk (Chambers Field).
2019-may-18
Deployment
Hurricane Season Arrived in Bermuda for start of Hurricane Season precautions.
2019-sep-17
NEWS
Central Abaco Royal Cayman Police in Bahamas After Hurricane Dorian
2019-oct
Aircraft
815 NAS 211 Flt Wildcat HMA.2 embarked
2020-feb-27
NEWS
Caribbean HMS Medway Takes On Caribbean Mission
2020-mar-17
Deployment
Portland Harbour End of deployment Returned to Portland to de-store after a 3 year Caribbean deployment. To Falmouth shortly, for refit.
The Max option implies only aircraft of this model onboard

Kvaerner (Govan), Govan