D 560 Luigi Durand de la Penne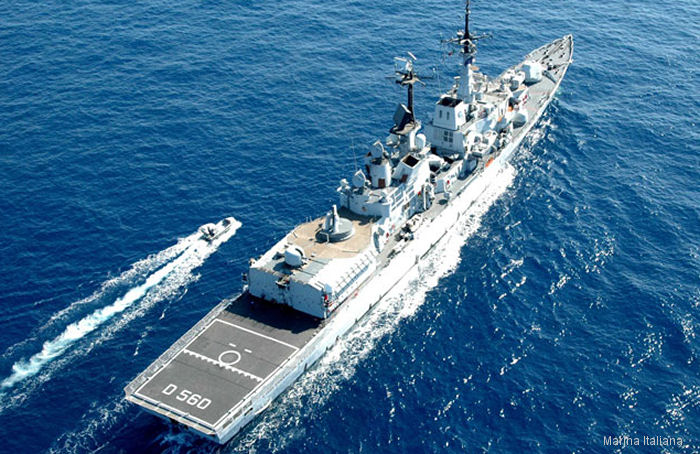 | | |
| --- | --- |
| Flight Deck: | D560 |
| Call Sign: | IADP |
Add new event for this unit

| | |
| --- | --- |
| Year: | |
| Month: | <- (1/12) Optional |
| Day: | <- (1/31) Optional |
1988
Laid down
1989-oct-20
Launched
1993-mar-18
Commissioned
1996-jul-12
Start a circumnavigation of the globe trip with Lupo class F584 Bersagliere
1997-jan-25
Port Visit
Port of Melbourne Melbourne, Australia
1997-apr-4
Finish circumnavigation of the globe after 46000 miles and 35 ports visits from 23 nations
2002-feb-11
Arabian Sea to Arabic Sea for Operation Enduring Freedom
2002-jun-17
Back from Arabic Sea
2006
off Lebanon Mimosa 06 operation: a non combatant evacuation of civilians from Beirut
2009-jun-19
Port Visit
Souda Bay Souda Bay, Crete, Greece
2014-feb-14
Port Visit
Genoa Centenary of Admiral Luigi Durand de la Penne birthday
2014-aug-8
Port Visit
West India Dock (TQ) Docklands Weekend visit to London on 8 Aug 2014. Unknown helicopter embarked. Departed 13 Aug.