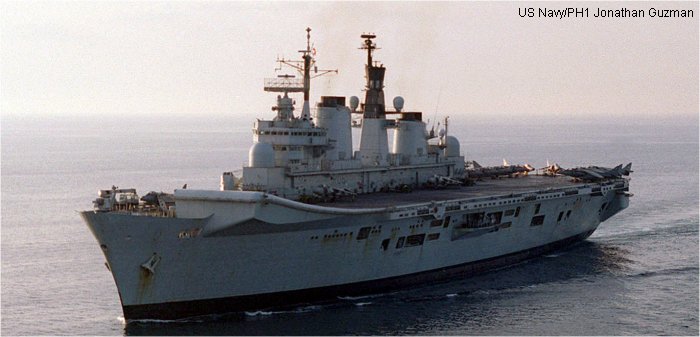 Add new event for this unit

| | |
| --- | --- |
| Year: | |
| Month: | <- (1/12) Optional |
| Day: | <- (1/31) Optional |
0
1976-may-14
Ordered
1976-oct-7
Laid down
Swan Hunter (Wallsend) Yard No. 102
1978-dec-14
Launched
fitted out by Swan Hunter at the ex-Vickers-Armstrong yard at High Walker.
1982-jun-20
Commissioned
at sea, underway. Formally commissioned on 20 Mar 1983, after her maiden deployment.
1982-aug-2
Deployment
Departed HMNB Portsmouth on her 1st operation, to relieve HMS Invincible on 27 Aug in the South Atlantic, following Operation Corporate. Joined en route by HMS Amazon as escort. Returned to UK 8 Dec.
1984-jul-16
Trials
trials for Sea Harrier launched Sea Eagle missile system culminated in sinking of HMS Devonshire as a target.
1986-apr-3
Refit
Accident departed HMNB Portsmouth on 2 Apr for GLOBAL 86 deployment. On 3 Apr, coming up to full revolutions, an explosion of gear box oil vapour led to a serious fire. Returned to Portsmouth and repairs to starboard gearbox and forward gearing room lasted until mid Jul.
1986-jul-14
Aircraft
Sea Kings of 814 NAS HQ Flt embarked for pre-deployment work-up.
1986-jul-21
Deployment
to Far East and Australia for the GLOBAL 86 deployment with 814 NAS HQ Flt and 849 NAS A Flt embarked, returning to Portsmouth on 18 Dec 1986.
1986-aug-18
Deployment
Sembawang naval base GLOBAL 86 caught up with GLOBAL 86 Task Group at Singapore, after a 4 month delay in Portsmouth
1986-aug-26
Deployment
GLOBAL 86 departed Singapore to meet RFA Olmeda in the South China Sea and recover the 2 Sea Kings of 814 NAS detached to her.
1986-oct-4
Port Visit
Fleet Review: 75th anniversary of RAN participated in celebrations for 75th anniversary of Royal Australian Navy at Sydney, during GLOBAL 86 deployment.
1986-nov-14
Port Visit
visited Bombay (Mumbai) during GLOBAL 86 deployment.
1991-sep
Refit
Goalkeeper update refit Goalkeeper until Sep 1993 at HMD Devonport.
1995-feb
Deployment
Dalmatian coast UNPROFOR to the Adriatic to relieve HMS Invincible. On station until Jul 1995, when relieved by HMS Invincible.
1995-dec-9
Deployment
Dalmatian coast IFOR (implementation force) relieved HMS Invincible, on station as Flagship of UK Adriatic Task Force supporting IFOR, until Feb 1996 when she returned to the UK.
1996
IFOR (implementation force) in Adriatic sea
1996-jun
Operation Purple Star, Westlant
1997-jan-13
Deployment
departed UK for a Far East deployment
1999-sep-28
Port Visit
Amsterdam Harbour from 28 September to 1 October Amsterdam, Netherlands. on board Sea King from 820Sqn. and 849Sqn. XV649 : XV650 : XV706 : XZ571 : XZ574 : ZA128 : ZA133 : ZD630 : ZD633 : ZE420. Plus 7 Sea Harrier from 801Sqn.
2000-jan-17
Deployment
departed HMNB Portsmouth for a Persian Gulf deployment, returning, after diversions on 14 Jun.
2000-may-8
Deployment
Freetown Port Sierra Leone Operation Palliser from standing off Lisbon, ordered off Freetown Sierra Leone to support Operation Palliser, arriving on 12 May with seven Sea Harriers, six Harriers and five Sea Kings embarked.
2001-aug-24
Port Visit
HMNB Portsmouth IFoS 2001 International Festival of Sea 2001 Present at IFoS Portsmouth.
2001-sep-3
Deployment
departed HMNB Portsmouth for Persian Gulf and exercise Saif Sareea II. Remained in area following 9/11 attacks in the US as a contingency but relieved by HMS Ocean in Jan 2002.
2002-dec
Refit
HMD Rosyth Merlin upgrade refit Refit at Babcock Rosyth until Nov 2004 to convert for Merlin operations and remove Sea Dart twin launcher with its Type 909 fire direction radar.
2006-mar-29
Deployment
Aquila 06 departed HMNB Portsmouth (814 NAS Merlin and 849 NAS A Flt Sea King embarked), leading the Aquila 06 deployment to the Persian Gulf, escorted by HMS Gloucester and supported by RFA Brambleleaf, RFA Diligence and RFA Fort Victoria. Gloucester and Illustrious were later detached and ordered back to Beirut, Lebanon.
2006-jul
Deployment
off Lebanon Operation Highbrow assisted in evacuation of British nationals from Beirut, during Israel-Lebanon war
2006-nov-10
Port Visit
Greenwich Reach moored on the Thames at Greenwich Reach. Eventually departed 15 Nov.
2007-jul-7
Aircraft
USMC Osprey first landing on a non-US ship
2008-feb
Deployment
Ex Orion 08 left HMNB Portsmouth after some false starts due to defects, as flagship of Task Group 328.01, for the Orion 08 deployment. Embarked 6 Merlin HM.1 of 814 NAS, plus 849 NAS A Flt. Until 31 May
2008-feb-26
Port Visit
Grand Harbour / il-Port il-Kbir / Valletta Ex Orion 08 entered Malta, escorted by HMS Edinburgh. Departed 29 Feb.
2008-may-13
Port Visit
Ex Orion 08 four day visit to Instanbul, to host HM The Queen and President of Turkey on 15 May. On 14 May, a fault with an aircraft tug almost dragged 814 NAS Merlin ZH835 / (2)70 over the side. The tug and driver were recovered. Departed 18 May.
2008-jul-25
Port Visit
HMNB Portsmouth Meet Your Navy 2008 At HMNB Portsmouth, 25-27 Jul for Meet Your Navy 2008
2009-may-6
Port Visit
Greenwich Reach visited London for Fly Navy 100 (celebrating 100 years of the Fleet Air Arm), moored at Greenwich Reach on the River Thames. Departed 10 May 2009.
2009-oct-5
Deployment
Exercise Joint Warrior 09-2 participated in Ex JW 09-2, initially on the River Clyde with 815 NAS Lynx HAS.3S(ICE) XZ246/434-EE and 849 NAS Sea King ASaC.7 ZE418/186 embarked
2010-feb-8
Refit
after entering Crombie for de-storing, HMS Ilustrious began a 16 month refit at Babcock in Rosyth, departing 20 Jun 2011.
2011-dec
Port Visit
visited Hamburg, following completion of post refit training
2012-feb-3
Deployment
departed HMNB Portsmouth for 8 week cold weather work up off northern Norway
2012-feb-29
Port Visit
visited North Shields for 4 day visit to Tyneside, departed on 3 Mar.
2012-mar-9
Harstad collided with tug in Harstad (Norway) and holed twice above waterline. Returned to HMNB Portsmouth on 18 Mar for repairs.
2012-sep
Trials
first of type trials for Merlin HM.2 ZH826 for 12 day performance assessment period, off Plymouth
2012-oct-1
Deployment
departed HMNB Portsmouth for 3 month Cougar 12 deployment in the Mediterranean, with a detachment of Apache from 656 Sq AAC, Merlins from 814 NAS, 2x ASaC Sea Kings from 854 NAS and a mixed detachment of 845 NAS and 846 NAS Commando Sea Kings. Also deployed were HMS Bulwark, HMS Montrose and HMS Northumberland, with RFA Mounts Bay and mv Hartland Point in support.
2012-nov-19
Port Visit
Grand Harbour / il-Port il-Kbir / Valletta Grand Harbour 5 day visit to Valletta, Malta, including 2 day Ship Open to Visitors, departing 23 Nov.
2013-feb-14
Port Visit
Pier Head Cruise Liner Terminal to Liverpool for 5 day visit including Ship Open to Visitors on 16 and 17 Feb.
2013-apr-26
Port Visit
Dublin Port Alexandra Basin on completion of Exercise Joint Warrior, visited Dublin and departed 29 Apr
2013-may-8
Port Visit
Greenwich Reach moored on the Thames at Greenwich Reach, for Battle of the Atlantic commemorations. Eventually departed 14 May.
2013-aug-12
Deployment
Cougar 13 departed HMNB Portsmouth for Gulf, Red Sea and Horn of Africa to participate in Ex Cougar 13. Embarked a Merlin from 829 NAS and 3x Lynx Mk.9A from 659 Sq AAC. Returned to HMNB Portsmouth on 10 Jan 2014.
2013-oct-24
Deployment
Persian Gulf transit through the Strait of Hormuz, escorted by HMS Montrose, as part of Cougar 13 deployment. Attached to CTF-150. Ordered to Philippines on 14 Nov.
2013-nov-25
Deployment
Visayan Sea Typhoon Haiyan relief operations arrived in the Philippines to relieve HMS Daring, during the humanitarian mission to assist after Typhoon Haiyan with an 829 NAS Merlin, 3x 845 NAS Commando Sea Kings and 3 Lynx AH.7 of 659 Sq AAC. Departed 11 Dec.
2014-jun
Port Visit
Jardim do Tabaco Lisboa visit to Cruise Terminal, Lisbon after Exercise Deep Blue, departed 26 Jun
2014-jun-16
NEWS
Royal Navy Merlin Mk2 in Exercise Deep Blue
2014-jul-18
Port Visit
departed Rosyth in early hours of 18 July
2014-jul-22
Homeport
Returned to HMNB Portsmouth for final time
2014-aug-28
Decommissioned
decommissioned at HMNB Portsmouth
2016-dec-7
Fate: scrapped
Aliaga Shipbreakers departed Portsmouth for final time under tow for Turkey and scrapping. Arrived at Aliaga on 27 Dec; scrapping completed by 22 Jun 2017.