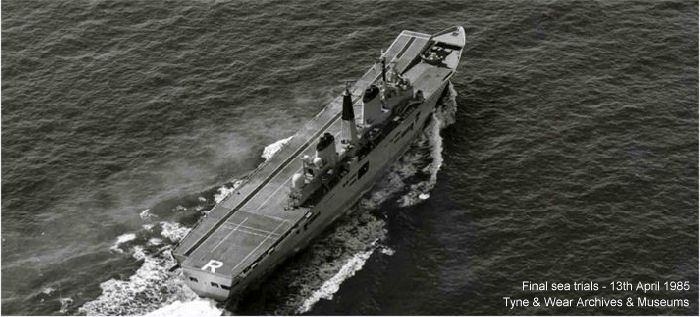 Add new event for this unit

| | |
| --- | --- |
| Year: | |
| Month: | <- (1/12) Optional |
| Day: | <- (1/31) Optional |
1978
Ordered
from Swan Hunter when it was known as British Shipbuilders.
1978-dec-14
Laid down
Swan Hunter (Wallsend) as HMS Indomitable, Yard No. 109
1981-jun-2
Launched
as HMS Ark Royal
1984-oct-19
Trials
left Tyne for 1st time for manufacturer trials
1985-jul-1
Homeport
arrived at HMNB Portsmouth
1985-nov-1
Commissioned
1986-jun-17
Aircraft
embarked 9 Sea King HAS.5 of 820 NAS, until 5 Nov.
1986-jun-17
Aircraft
embarked Sea King AEW.2 of 849 NAS B Flight while alongside at HMNB Portsmouth.
1986-jul
Port Visit
Pier 92 visited New York for 4th July celebrations
1986-nov-5
Aircraft
embarked Sea King HC.4 of 845 NAS.
1987-jan-12
Deployment
departed HMNB Portsmouth for 3 month western N Atlantic deployment, returned 9 Apr.
1988-mar-18
Port Visit
Rotterdam Harbour Wilhelminakade 18-22mar88 port visit embarked 801Sqn with 8 Sea Harrier.
820Sqn. and 849Sqn. embarked with Sea King XV649 : XV654 : XV672 : XV697 : XV700 : ZD631
1988-jun-13
Deployment
sailed from HMNB Portsmouth for Far East, as flagship of the Outback 88 deployment. Arrived Singapore on 23 Jul and after visiting Australia, returned to Portsmouth on 15 Dec.
1988-sep-27
Port Visit
HMAS Kuttabul Fleet Review: Australia Bi-centennial Naval Salute to Sydney Harbour for Australian Bi-centennial Fleet Review
1990-apr-18
Deployment
Task Group 318.1 sailed as flagship of TG 318.1 for western North Atlantic deployment, with HMS Glasgow, HMS Brave and HMS Cumberland, supported by RFA Fort Grange and RFA Olna. The Ark returned to HMNB Portsmouth on 5 Jul.
1990-nov-7
Trials
SHAR2 sea trials area departed HMNB Portsmouth for first Sea Harrier FA.2 on Invincible class ship, for 10 days of sea trials, off Lands End. 3 Junglie Sea Kings and Sea King HAS.6 ZA129 /12 embarked with Sea Harriers.
1991-jan-10
Deployment
Task Group 323.2 Departed HMNB Portsmouth (in company with HMS Charybdis and HMS Sheffield) and embarked 820 Squadron Sea Kings before deploying with TG 323.2 to the eastern Mediterranean for long range surveillance of the Suez Canal and defence of western flank of coalition forces during the Gulf War. Worked with USS Philippine Sea, USS Spruance and USS Virginia in Mediterranean. Returned to Portsmouth in Apr.
1991-sep-10
Deployment
departed HMNB Portsmouth for western N Atlantic deployment, including working up Sea King HAS.6 of 820 NAS at the AUTEC Ranges, off Bermuda. Returned to Portsmouth on 18 Nov.
1993-jan-14
Deployment
Dalmatian coast UNPROFOR departed HMNB Portsmouth for Adriatic deployment to assist UNPROFOR, with 3 Sea King HAS.2A of 849 Sq B Flt., 8 Sea King HC.4 of 846 Sq and RFA Argus as aviation support. She was relieved by HMS Invincible in Aug 1993. Returned to HMNB Portsmouth 3 Aug 1993.
1993-jun
Deployment
cross-deck operations with Giuseppe Garibaldi in the Adriatic in late Jun.
1994-jan-28
Deployment
Dalmatian coast Task Group 612.02 UNPROFOR departed HMNB Portsmouth and relieved HMS Invincible at Gibraltar on 4 Feb, assisting UNPROFOR in the Adriatic. Relieved by HMS Invincible and returned to Portsmouth on 2 Sep.
1994-mar-31
Port Visit
Piraeus short mid-deployment maintenance visit to Piraeus until 11 Apr
1994-oct
HMD Rosyth into reserve at HMNB Portsmouth on 6 months notice to re-activate, until May 1999, when she was towed to Rosyth for refit.
1999-jun
Refit
Merlin upgrade refit extensive refit at Rosyth until Mar 2001, including facilities to Operate Merlin and Sea King ASaC.7 and rejoined fleet in summer 2001
2001-jul
Trials
post refit shake down and work up
2003-jan-11
Deployment
Operation Telic to support combat operations in Iraq, completing 17 May 2003
2003-mar-22
Aircraft
northern Persian Gulf Accident Operation Telic while far north in the Persian Gulf supporting the assault on the Al-Faw peninsula, 2 embarked Sea King ASaC.7 from 849 NAS (XV650 and XV704), Red Rat 34 and Red Rat 35 collided with fatal result 5nm from the ship. Recoveries were assisted by divers from USNS Catawba.
2004-mar-17
entered a period of extended readiness
2004-oct
Refit
refit at Babcock in Rosyth to add a third mast, upgrade aviation facilities and improve communications, until 29 Sep 2006, rejoining the fleet in Dec 2006
2008-feb-8
Port Visit
North Shields Northumbrian Quay visited North Shields on Tyneside
2010-apr
Aircraft
Exercise Auriga 2010 Embarked both 815 Squadron 212 Flight Lynx HAS.3ICE, on loan from HMS Endurance until Aug 2010, XZ694 /434 and /435 Ark Royal Flt. Air Group also included 3 Merlin HM.1 from 814 NAS and 2 Sea King ASaC.7 (XV707 / 184 and ZE418 / 186) from 849 NAS.
2010-jun-28
Port Visit
Bedford Basin Fleet Review: 100th anniversary of Canadian Navy visited Halifax for MARLANT Fleet Review
2010-oct
Aircraft
hosted 656 Squadron (AAC) Apaches for maritime operations trials for c. 3 weeks.
2010-nov-17
Port Visit
5 day visit to North Shields, departing 22 Nov
2010-nov-24
Aircraft
Flew off her last Sea King and 4 Harriers (2 from 800NAS and 2 from RAF 1 Squadron), while still operational. Also around this time, de-stored at Glenmallan.
2010-dec-3
Aircraft
She returned to Portsmouth that day from a 5 day visit to Hamburg. Previous day while off Portsmouth, had embarked Sea King HAS.5 /21 from 771 NAS, Sea King ASaC.7 /181 and /182 from 849 NAS and a Merlin HM.1.
2011-mar-11
Decommissioned
Ark Royal was decommissioned at HMNB Portsmouth, 3 years early following defence cuts announced in the SDSR spending review of Oct 2010.
2013-may-20
Fate: scrapped
Aliaga Shipbreakers departed Portsmouth under tow for scrapping in Turkey. Passed Malta on 5 Jun 2013.