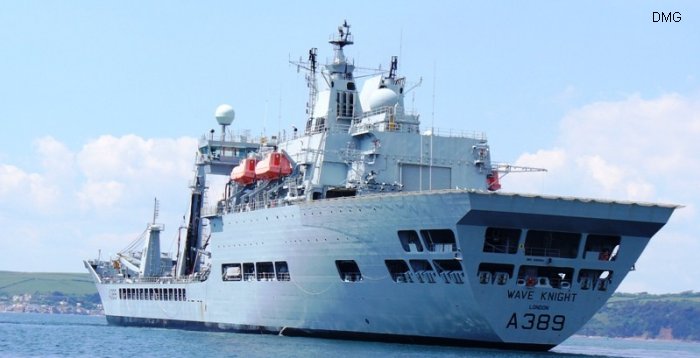 Add new event for this unit

| | |
| --- | --- |
| Year: | |
| Month: | <- (1/12) Optional |
| Day: | <- (1/31) Optional |
1997-mar-12
Ordered
1998-may-22
Laid down
Barrow-in-Furness Yard No 1119. Laid down at Barrow in a joint ceremony with HMS Albion.
2000-sep-29
Launched
2002-nov
Homeport
arrived HMNB Devonport
2003-mar
Commissioned
to replace the decommissioned RFA Olwen.
2003-sep
departed UK for 9 month APT(N) deployment, returned on 3 Jun 2004.
2005-feb
Deployment
Caribbean Sea TG326.01 supporting Task Group 326.01 in the Caribbean, with HMS Liverpool as APT(N). Returned to UK 20 Dec 2005
2006-oct-11
Deployment
Freetown Port Sierra Leone Operation Vela (Green Eagle) in support of Exercise Green Eagle phase of Operation Vela, off Sierra Leone
2007-apr-2
Refit
at Cammell Laird in Birkenhead, until Jun 2007
2008-jan-21
Deployment
Orion 08 departed HMNB Portsmouth in support of a Royal Navy Middle East deployment. Returned to Devonport on 22 Nov.
2010-oct
Refit
at Cammell Laird in Birkenhead, Merseyside
2011
Deployment
Libyan coast Gulf of Sirte Operation Unified Protector supported the contribution to the international forces and the UK Response Force Task Group with fuel
2011-apr
Deployment
departed HMNB Devonport for 11 month east of Suez support deployment with 815 NAS Lynx HMA.8 embarked, returning to Portland on 16 Mar 2012.
2012-apr-21
Refit
at Cammell Laird, on Merseyside for 3 months.
2013-jan
Deployment
departed UK for 15 month Atlantic Patrol Task (North) deployment, relieving RFA Argus. The period around Jan 2014 included first time embarking an armed USCG helicopter on a non-US ship. Returned to Portland on 24 Apr 2014.
2013-mar-20
Port Visit
Seen at dock in Antigua
2014-sep-2
Deployment
Gibraltar Harbour Cougar 14 arrived in Gibraltar for Cougar 14 deployment, in company with HMS Bulwark and RFA Lyme Bay.
2015-feb-5
Refit
Cammell Laird refit at Birkenhead, completed by Aug 2015
2016-jun-21
Deployment
departed Devonport for APT(N) tasking. Joined by 815 NAS Lynx HMA.8 ZF558/336.
2016-oct-7
Deployment
Hurricane Matthew relief operations arrived off the Bahamas late on 7 Oct to assist in Hurricane Matthew humanitarian relief. Lynx HMA.8 /336 embarked.
2017-feb-1
Port Visit
George Town HSB APT(N) visited Grand Cayman for 5 days
2017-jun-30
Deployment
Fort Saint-Louis Relieved as APT(N) by RFA Mounts Bay at Fort de France
2018
Refit
Cammell Laird Phalanx fitted CIWS Phalanx 20 mm Completed refit in Dec 2018, with Phalanx now fitted to the previously provided mount stations, fore and aft.
2021-may
Deployment
departed UK for 8 month Caribbean mission with an 815 NAS Wildcat embarked, returned 27 Jan 2022.