"This is the largest search and rescue mission in the history of the Air Force. You could fly over New Orleans and it was like a scene right out of a movie. There were helicopters everywhere!"
Hurricane Katrina will likely be recorded as the worst natural disaster in the history of the United States, producing catastrophic damage and at least 1,836 casualties in the New Orleans area, along the Mississippi Gulf Coast and in south Florida.
It formed over the Bahamas on August 23, 2005, and crossed southern Florida as a moderate Category 1 hurricane, but causing some deaths and flooding there, before strengthening rapidly in the Gulf of Mexico and becoming one of the strongest hurricanes on record. The storm weakened considerably before making its second and third landfalls as a Category 3 storm on the morning of August 29 in southeast Louisiana and at the Louisiana/Mississippi state line, respectively.
Military response to the massive natural disaster included all services aviation assets from across the country.

The United States Northern Command established Joint Task Force (JTF) Katrina based out of Camp Shelby, Mississippi, to act as the military's on-scene command on Sunday, August 28. Approximately 58,000 National Guard personnel were activated to deal with the storm's aftermath, with troops coming from all 50 states.

Military helicopters continued airlifts throughout the days, ferrying in supplies and taking many people out of New Orleans to the Louis Armstrong International Airport in nearby Kenner. By September 3, according official reports the facility so far has processed 40,000 people, with priority given to the sick and injured.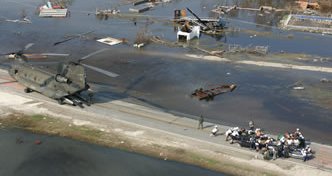 FEMA search and rescue team prepare to board a National Guard Chinook
Coast Guard helicopters where already on scene and several days into the disaster, National Guard helicopter crews joined the desperate effort, using less well-equipped
UH-1 Hueys
hugging one or two survivors up time after time. And by the end of the week, the skies over New Orleans were a beehive of rotary wing activity, with craft as large as the huge
Skycrane
or tandem rotor
Chinooks
, large
Sikorsky H-53
s along with most every other helicopter model in the Armed Forces inventory.
The Army's III Corps and two Air Force rescue wings contributed over 30 helos as well.
At the height of operations, the various elements of the Department of Defense had more than 350 helicopters and over 70 fixed wing aircraft involved in Katrina relief efforts.
Below is a summary of the helicopter units deployed: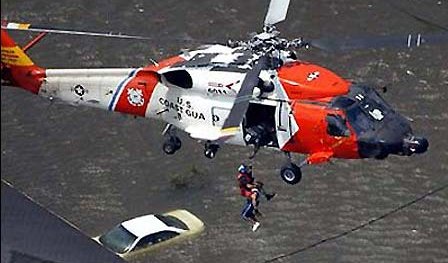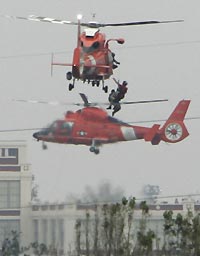 On the afternoon of the storm, NAS JRB New Orleans' emergency management team quickly moved into action to clear the runways and repair the control tower. Within four hours, flight operations began when the first Coast Guard
HH-65
landed at the JRB to start relief operations. The Coast Guard had also prepositioned rescue helos to Shreveport, La., and other aviation assets in staging areas near the threatened area in advance of the storm.
By 5 September, the Coast Guard had 43 helicopters and 8 fixed wing aircraft conducting operations in the region.
Of the 60,000 people stranded in New Orleans, the US Coast Guard rescued over 33,500.
Congress recognized the Coast Guard's response with an official entry in the Congressional Record and the Armed Service was awarded the Presidential Unit Citation.
Hour by hour, pilots held their
MH-65 Dolphins
or
MH-60 Jayhawks
helicopters in rock-steady hovers as their crewmen lowered rescue baskets and raised up desperate survivors one by one. Hour by hour they worked, pausing only to refuel, their crews at times needing to be all but ordered to sleep and comply with the crew duty limitations.
The Coast Guard raced tirelessly to save as many as possible, maintaining its superlative safety procedures to make sure the crews and rescuees made it back every time.
NAS Pensacola
, Fla., was the base for over 30 Navy and Marine aircraft involved in the operation.
Assault carrier
USS Bataan
(LHD 5) was already operating in the region as the storm approached. She steamed westward to embark four
MH-53s
from HM-15 based at NAS Corpus Christi, Texas, which joined two
MH-60s
from Helicopter Sea Combat Squadron (HSC) 28 already on board. Late in the afternoon of 30 August these helos began search and rescue operations in the vicinity of New Orleans.
The Navy soon sent assets from the Norfolk, Va., area, including three amphibious ships:
USS Iwo Jima
(LHD 7),
USS Shreveport
(LPD 12), and
USS Tortuga
(LSD 46). On 4 September, Iwo Jima moored pierside in downtown New Orleans and became a hub for military and civilian helicopter activity in the heart of the city. The amphib became the HQ for Joint Task Force Katrina led by Army Lt. Gen Russell Honore. Aircraft carrier
USS Harry S. Truman
(CVN 75) also deployed to the area along with
USS Whidbey Island
(LSD 41) on September 1st. Truman embarked elements of 13 Navy helicopter squadrons and by deploying close to the disaster area, shortened the mission time for operations that had previously been flown from Pensacola. The carrier also provided support to NAS JRB New Orleans in the form of aviation boatswain's mates and cooks to keep that vital station in operation.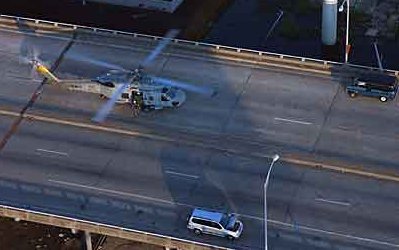 US Navy SH-60F Seahawk from HS-75 near the New Orleans Superdome
The demand for aircraft, particularly helicopters, led to the deployment of aircraft from across the services and the country. Helicopter Antisubmarine Squadron Light (HSL) 43, HSL-47, and HSL-49, and HSC-21 arrived from NAS North Island, Calif., with their
MH-60
Seahawks. Three Marine squadrons from MCAS New River, N.C., sent six
CH-53E Super Stallion
s and two
CH-46E
Sea Knights, and Heavy Helicopter Squadron (HMH) 772, a reserve squadron from Willow Grove, Pa., sent four more Super Stallions. Naval Aviation units also provided key logistical support; Fleet Logistics Support Squadron (VR) 57 and VR-58 moved in Seabees and HSL crewmen; evacuated hundreds of citizens; and transported tons of supplies.

U.S. Army Ft. Polk Lousiana units were the first active duty Army units to conduct missions of New Orleans after Katrina hit.

US Army's 282nd Aviation Battalion, Fort Bragg, NC (
UH-60L Black Hawks
)

Fort Hood, TX B Troop, 1-158th Aviation Regiment, 21st Cavalry Brigade was in the Gulf Coast Region for 6 weeks, which was longer than any other active duty unit, operating 8 UH-60A Black Hawks from 5 different locations. They also documented damaged areas and dropped sand bags to assist with flood control.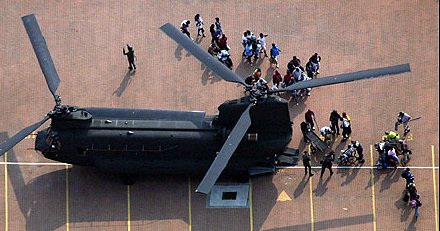 US Army CH-47 Chinook evacuating people from the New Orleans Convention Center

U.S. Air Ambulance Detachment ( USAAAD) (
UH-1V Hueys
)

JRTC (Joint Readiness Training Center) Flight Detachment (
UH-60A Black Hawks
)

US Army Reserve's B Co., 5th Battalion, 159th Aviation Regiment from Fort Eustis, Va. ( Their
CH-47 Chinooks
dropped more than a million pounds of the sandbags to help repair damaged levees around New Orleans. )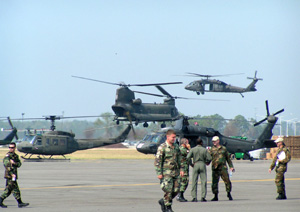 National Guard helos at the Mississippi National Guard Combat Readiness Training Center

National Guard's 1st Battalion 137 th Aviation Regiment from Akron-Canton, Ohio (
CH-47 Chinooks
)

National Guard's 1st Battalion 131 th Aviation Regiment from Birmingham, Al (
UH-60A Black Hawks
)

National Guard's 148th Medical Co (Air Ambulance) from Winder, Ga (
UH-1V Hueys
)

National Guard's 149th Air Ambulance from Martindale Army Air Field, Tx (
UH-60A Black Hawks
)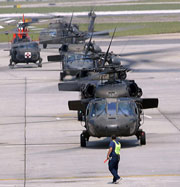 US Air Force's 347th Expeditionary Rescue Group from Moody, Ga ( More than 20
HH-60G Pave Hawks
operating from Allen C. Thompson Air National Guard Base in Jackson, Miss )

USAF 620th Air Expeditionary Squadron:
US Air Force Space Command deployed eight
Bell UH-1Ns
with their 83 pilots, maintainers and support personnel to Columbus Air Force Base, Miss., making up the 620th Air Expeditionary Squadron to aid in hurricane relief efforts beginning Sept. 2.
This is the first time the command has assigned helicopters outside its normal area of operations.
The helicopters assigned to 20th Air Force are primarily dedicated to providing security
top cover
for America's ICBM force. However, because of their inherent capabilities, such as forward-looking infrared system, they are also ideally suited for search-and-rescue missions.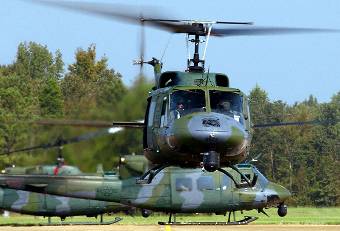 Civilian

Bell Helicopter Textron :
In coordination with FEMA, they dispatched six helicopters to the Gulf area. They were one Bell 430, one
Bell 206L4
, and four Bell 407s including one NVG (night vision goggles) equipped on station in Lafayette, LA. flying medical aid missions. In all sixteen pilots and customer service representatives from Bell joined forces with federal and local agencies.
International helicopters Response


Canada:
On September 2 the Government of Canada announced it was sending three warships, along with a Coast Guard vessel, with three
CH-124 Sea King
to the area. Over 1,000 personnel are involved in the operation, including engineers and navy divers.


Netherlands:
The Koninklijke Marine (Royal Netherlands Navy ) 's frigate Hr.Ms. Van Amstel arrived from the Netherlands Antilles with her
Westland Lynx
attachment onboard.

Republic of Singapore Air Force:
Three Singaporean
CH-47 Chinooks
and 38 RSAF personnel from a training detachment based in Grand Prairie, Texas assisted in relief operations from 1 September. They had so far ferried about 700 evacuees and hauled tons of supplies in 39 sorties on 4 September.
See also:

Hurricane Harvey