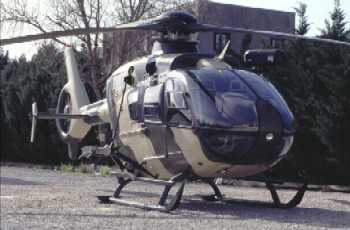 Monday October 22, 1999 :
Nine EC 635 Helicopters for the Portuguese Army, start-up Customer.
Marignane, France ( Eurocopter Press Release ) - At the Defense Department in Lisbon, General Rivera, Director General of Armament and Defense Equipment, and Dr. Siegfried Sobotta, Co-Chairman of the Eurocopter Group, signed (in the presence of the Portuguese Minister of Defense Jaime Gama) a contract worth 35 million Euros. The contract calls for nine EC 635 helicopters to be supplied to the Portuguese Army.
This contract signals the first commercial success for the EC 635, which is the military version of the EC 135 twin-engine helicopter. This makes the Portuguese Army the EC 635 start-up customer.
The nine helicopters will be used for fire support, medical evacuations, and to help civilian populations in emergency situations.
This contract is part of a broader plan to create an Army Air Corps in Portugal. Eurocopter, along with the French and German armies, will provide specialized assistance in the Army Air Corps project.
The first deliveries will be made in the year 2001, and will be completed within 9 months.