Friday December 10, 1999 :
EC 135 Receives LBA IFR Certification
Marignane, France ( Eurocopter Press Release ) - The German aviation authority, LBA (Luftfahrtbundesamt) has granted single-pilot and dual-pilot IFR (Instrument Flight Rules) certification featuring AFCS (Automatic Flight Control System) and the " Avionique Nouvelle" cockpit configuration for the Eurocopter EC 135 on December 2, 1999.
The single-pilot IFR configuration consists of two Sextant SMD45 displays, plus a Central Cockpit Display System (CPDS). The CPDS includes a Vehicle and Engine Multifunctional Display (VEMD) and a Caution and Advisory Display (CAD). The avionics suite is the AlliedSignal Gold Crown.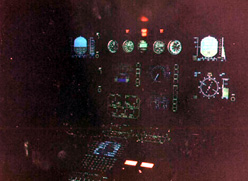 This certification is in basic mode, which is with heading, altitude and airspeed select mode. The navigation and approach mode will be certified next year. Also in early 2000, the EFIS 40 with Cockpit Display System (CDS) and Gold Crown avionics will be certified.
The certification applies to EC 135s with either the Turbomeca Arrius 2B or Pratt & Whitney Canada PW206B turbines. FAA certification should be completed by the second quarter of 2000.
The EC 135 has met with outstanding response from customers worldwide. The single-pilot IFR certification will further the EC 135's already excellent capabilities for EMS, corporate and law enforcement missions.
Eurocopter is a joint venture of Daimler Chrysler Aerospace AG and Aerospatiale Matra SA. The two parent companies and CASA of Spain are merging to form the European Aeronautic, Defense and Space Company (EADS) one of the three leading aerospace companies in the world.