Tuesday December 14, 1999 :
Eurocopter delivers the 100th Ecureuil/Astar B3
Marignane, France ( Eurocopter Press Release ) - The 100th AS 350 B3 Ecureuil single engine helicopter manufactured by Eurocopter and intended for a Japanese operator has been handed over to their distributor; Kawasho. Patrick GAVIN, Chairman of Eurocopter Board, symbolically gave the helicopter keys to Mr Kohzu in Marignane.
This delivery less than 2 years after certification evidences the success of this high performance version of the Ecureuil helicopter which today is a best-seller since it has already been delivered to almost 50 customers in 22 countries. It is to be noted that 4 Ecureuil B3 helicopters were ordered in Japan and 2 already are in service.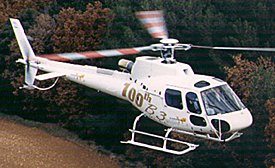 Even before it was certificated, some 20 B3 helicopters had already been booked by a clientèle trusting the product, and the VFR type certificate was granted by Direction Générale de l'Aviation Civile only 9 months after first flight, thus proving the maturity of the Ecureuil family helicopters.
The reasons for this success are that, compared to its competitors, AS 350 B3 offers more power and more payload over a higher temperature range; a higher sling loading capability (1400 kg at low altitude) and a higher cruise speed at all-up weight (140 kt for 155 kt VNE).
AS 350 B3 highlights are a powerful Arriel 2B Turbomeca turbine engine with FADEC, and a VEMD instrument panel with two screens to display engine and vehicle parameters.
AS 350 B3 includes a number of improvements - Engine control with a twist grip on the pilot collective lever - Main Gear Box upgrade to 500 kW - Twin engine Ecureuil tail rotor. Amongst the latest innovations recently certified and soon available, there are: Transfer of auxiliary rotor brake and fuel shut-off controls to the overhead panel to release space on the floor, and central instrument panel with built-in lighting and 3" instruments.
The Arriel 2B turbine engine develops 847 shp (632 kW) on take-off. It includes a FADEC with automatic starting sequence and its performances are optimised according to outside conditions. With up-to-date technology including single crystal turbine blades and a single power stage, Arriel 2B reliability is high and its maintenance is simplified. …/… The VEMD instrument panel displays with a symbology similar to that of conventional indicators the main engine and vehicle parameters as well as a first limitation indication (FLI). The synthetic display of the data on the screen completed with a first limitation audio warning considerably reduces the pilot's workload, and the time thus saved can be devoted to the mission in hand. This is also a significant safety factor, particularly when sling loading.
AS 350 B3 all-up take-off weight is 2250 kg internally and 2800 kg externally. The 250 kg internal load increase compared to AS 350 B2 allows carrying 1400 kg with a new cargo swing system. With a number of options such as windows looking downward, electrically-controlled de-iced external mirror, curved transparencies, LH pilot seat, AS 350 B3 is the best helicopter available for sling loading. A seven-seat kit and two hoists of 134 and 206 kg capability respectively are also available.
AS 350 B3 also combines the qualities of a corporate and passenger transport helicopter where high speed, in particular, is a significant factor. With AS 350 B3, Eurocopter is up-grading its single engine helicopter range and offers a helicopter with remarkable altitude and hot weather performance. Lama is thus replaced by a modern, multi-purpose machine with much lower maintenance and fuel costs at higher speed.
Ecureuil AS 350 B3 is often operated intensively thus proving it is the leader in a fleet that shall have completed 2000 flight hours at the end of 1999.
Close to 2200 single engine Ecureuil/Fennec helicopters were sold to almost 300 customers in more than 40 countries totalling an operating experience including 8 million flight hours, 720 000 of which in 1999 alone.
Eurocopter is a joint venture of DaimlerChrysler Aerospace AG and Aerospatiale Matra SA. The two parent companies and CASA of Spain are merging to form the European Aeronautic, Defense and Space Company (EADS) one of the three leading aerospace companies in the world.