Server under heavy load
Please wait 120 seconds and try again
Thursday July 8, 1999 :
1 Dead, Hundreds Rescued From Ferry
GOTEBORG, Sweden (AP) - The smell of acrid smoke and the sound of fire alarms woke passengers on an overnight ferry from Germany to Norway today, when a fire below decks forced a pre-dawn evacuation of hundreds of tourists.
A distress call from the Prinsesse Ragnhild went out at 2:13 a.m., within moments of the fire's detection, and the decision was quickly made to abandon the ferry, which had 1,167 passengers and 172 crew members on board.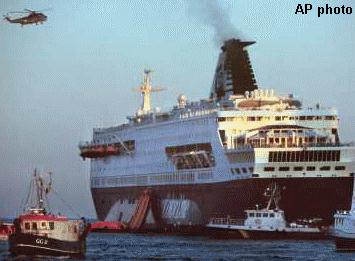 The fire broke out - either in the engine or machine room - from causes still unknown. A 70-year-old woman died hours later of heart failure in a hospital in this Swedish port city, where the ferry was towed, said Per Oertenvall, a physician. He refused to release her name or nationality, although news reports said she was Norwegian.
Reported injuries were limited to three passengers treated for smoke inhalation - in what experts praised as a textbook evacuation of the 670-foot-long ferry sailing from Kiel, Germany, to Oslo, Norway. The passengers evacuated the boat 11 miles off Sweden's coast
``I noticed the smell of smoke in the cabin ... and then the alarm sounded ... and then it was just a matter of getting dressed as fast as you could and take your most important things with you,'' Knut Gran of Norway told Norway state radio NRK.
While passengers filed into lifeboats, another ferry and a smaller boat pulled alongside within a half hour, taking on 500 passengers. Twenty other vessels and six helicopters later joined the effort, rescuers said.
Calm seas and windless weather helped the evacuation. Within about four hours, the fire was under control and virtually all passengers - most of them Norwegian tourists - were taken off and brought to Goteborg. The ship was also towed to the Swedish port city.
``There was never any panic,'' 70-year-old Marit Stakvik-Joergensen of Oslo told Swedish news agency TT. ``Some probably thought at first that it was just a drill, but when they put the life jackets on and felt the smoke, then they understood it was serious.''
But for many, it was still jarring.
``It was pretty scary,'' said a young Norwegian boy, Marius Johansen. ``It felt like a long time in the little boat, but really it was probably half an hour.''
Anne-Lise Gaustad, an elderly woman from Norway, said she and others were given wet towels to breathe through because of smoke. ``I still have a headache,'' she said. ``We're pretty shaken.''
The engine room seems badly damaged and ``looks like an ashtray,'' Arne Slorafoss, a Norwegian passenger, told NRK. Slorafoss, a truck driver, volunteered to stay aboard and help the crew with salvage efforts.
The close call chilled Scandinavians who recalled two ferry disasters in the region this decade.
On April 7, 1990, the Scandinavian Star passenger ferry caught fire on an overnight run from Denmark to Norway, killing 159 people in the same waters off western Sweden.
In September 1994, 852 people died when the Estonia ferry went down in heavy seas en route to Stockholm from the Estonian capital Tallinn. Only 137 people survived.
Konrad Havig of Norway's Maritime Directorate said the earlier disasters brought about safety improvements, including improved signs and markings for evacuation and smoke detectors.
The evacuation of the Prinsesse Ragnhild ``is a textbook example of how something like this should be handled. It seems that way, at least,'' he said.



---
Ferry Evacuated Off Sweden And Fire Put Out
STOCKHOLM, Sweden (Reuters) - Nordic rescue crews said they had evacuated most of the 1,167 passengers from the Norwegian ferry Princess Ragnhild that caught on fire off Sweden's west coast early Thursday and extinguished the blaze.
No serious injuries had been reported although there were some reports of minor smoke related injuries. Nearby Gothenburg Hospital was on standby to treat passengers for shock.
``The situation is under control. We have just had information that the fire has now been extinguished,'' Stig Svensson, search and rescue mission coordinator from the Swedish Navigation Administration in Gothenburg, told Reuters.
``Most of the people have been evacuated. Some of the crew (of 172) are still on board.''
The fire broke out in the machine room of Norwegian passenger and car ferry Princess Ragnhild, operated by Color Line, while on route between Kiel and Oslo shortly after 2 a.m. (1200 GMT).
About 10 rescue helicopters from Sweden, Norway and Denmark were leading the operation aided by about 20 commercial ships, fishing vessels and three other passenger ferries which rushed to aid the Princess Ragnhild, situated near Vinga about 10 kms from Gothenburg.


Server under heavy load
Please wait 120 seconds and try again