Tuesday, September 7, 1999:
Malaysia orders Super Lynx
Yeovil, UK ( GKN-Westland Press Release ) - The secretary-general of the Malaysian Defence Ministry, Datuk Hashim Meon, has announced that the Royal Malaysian Navy has ordered six Super Lynx maritime helicopters in a contract valued at some £100 million.
GKN Westland Helicopters' Chief Executive, Richard Case, said he was delighted that the strong links between GKN Westland and the Royal Malaysian Navy were being maintained. "This is the first order for the Super Lynx in Southeast Asia and it is fitting that it should be placed by the Royal Malaysian Navy (RMN)," he said. "It was in 1988 that a Naval Air Wing, 499 Squadron, was established by the RMN to operate Westland Wasp helicopters," he said. "I am delighted that they will now be the first in the region to be equipped with the Super Lynx, the most modern and most capable of the Lynx family.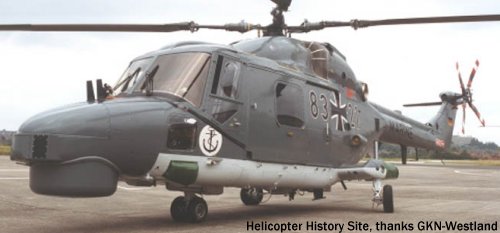 "Malaysia's selection of the Super Lynx more than justifies the significant investment that we as a company have made in the aircraft. Both existing users - such as Germany and Denmark who are upgrading their fleets to Super Lynx standard - and new users such as Malaysia, appreciate the many advantages the Super Lynx offers to operators with sophisticated maritime requirements and professional naval air wings. The versatility of the Super Lynx, and particularly its ability to operate from small ships' platforms, also makes it ideally suited for operations from offshore patrol vessels such as those recently ordered for the Royal Malaysian Navy."
Six Malaysian companies are involved in the Super Lynx programme providing a range of products and services including manufacture of ground support equipment and maintenance of dynamic components.
GKN Westland and the Royal Malaysian Navy have had a close working relationship since the Naval Air Wing was first established at Lumut naval base in 1988. Royal Navy Loan Teams worked with the Royal Malaysian Navy to establish operational and maintenance procedures that built on the experience gained by the Royal Navy in the operation of the Wasp.
When a second batch of Wasps was purchased from the UK Ministry of Defence in 1992, a GKN Westland engineering manager was seconded to AIROD, the Malaysian contractor, to assist with the refurbishment programme and a GKN Westland support team was also established to assist with the spares and repairs programme.
More than four hundred Lynx have been sold around the world and the Royal Malaysian Navy will be the twelfth navy to have them in operational service.