Tuesday, June 15, 1999:
Sikorsky and Lockheed Martin Canada Team for Sea King Replacement with S-92
PARIS, France ( Sikorsky Press Release ) - Sikorsky Aircraft Corporation announced today at the Paris International Air Show that it will team with Lockheed Martin Canada to offer Sikorsky's new S-92 helicopter as the replacement for Sea King helicopters currently in service with the Canadian Forces.
In making the announcement Eugene Buckley, Sikorsky's Chairman and Chief Executive Officer, said Lockheed Martin Canada would be responsible for the overall mission systems integration for the S-92 that will be offered to fill the requirements of Canada's Maritime Helicopter Project (MHP).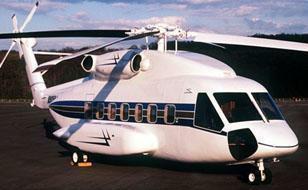 "We are delighted to welcome Lockheed Martin Canada to our Canadian S-92 team," said Buckley. "This agreement will strengthen and extend to Canada a very successful relationship. Sikorsky and Lockheed Martin have had an ongoing and effective association for more than 20 years, with the latest project being our SH-60R advanced multi-mission tactical maritime helicopter that will enter service with the U.S. Navy in 2002."
"Lockheed Martin Canada is a recognized leader in systems integration and software development for large-scale programs. This tremendous talent, coupled with their extensive Canadian presence and experience with the Canadian Forces, will be strong assets for our team," Buckley added.
The S-92, the world's most advanced medium-lift helicopter and the replacement for Sikorsky's Sea King helicopter, recently passed the 60 flight-hour mark in its test program. Since its first flight in December 1998, the S-92 has achieved successive milestones in record time.
In addition to Canada, international opportunities for the S-92 include Finland, Sweden, Denmark and Norway that are considering the S-92 for their new, multi-mission Nordic Standard Helicopter.
The S-92 is undergoing an intense flight test program at the Sikorsky's Development Flight Center in West Palm Beach, Fla. In all, five prototype helicopters will participate in the pre-production program, which involves 1,400 hours of flying. Aircraft five is on static display at the Paris International Air Show, June 13-20, where the S-92 is making its public debut.
The S-92 is being developed by an international team of companies led by Sikorsky. Other members of the team are: Embraer in Brazil, Gamesa in Spain, Mitsubishi Heavy Industries in Japan, Jingdezhen Helicopter Group/CATIC of the People's Republic of China, and Aerospace Industrial Development Corporation (AIDC) in Taiwan. The S-92 is based on proven U.S. Army BLACK HAWK and U.S. Navy SEAHAWK helicopters, which have logged more than 4 million flying hours. The S-92 has a metal and composite airframe and a highly integrated avionics package. Powered by twin General Electric CT7-8 turboshaft engines, it will have a range of 400 nautical miles with fuel reserves, a cruising speed of 155 knots, and a service ceiling of 15,000 feet.
With more than 650 people in Canada and the U.S., Lockheed Martin Canada has operations in Kanata, Montreal, Toronto, Halifax, Denver and Minneapolis/St. Paul. The workforce includes specialists in transportation, wireless communications, electronic systems, systems integration, and hardware/software engineering. The company is a subsidiary of Lockheed Martin, based in Bethesda, Maryland, which is a highly diversified global enterprise employing some 170,000 people.
Sikorsky Aircraft Corporation, based in Stratford, Connecticut, is a world leader in helicopter design and manufacturing. Its helicopters are widely deployed by all five U.S. military branches, and are flown by military and commercial users in 49 nations.
Sikorsky is a subsidiary of United Technologies Corporation, which provides a broad range of high-technology products and support services to the aerospace and building systems industries.
Database: CH-148 Cyclone