Tuesday December 7, 1999
Bell Eagle Eye Team UAV partners named
FORT WORTH, Texas, USA ( Bell Helicopter Textron Press Release ) - Bell Helicopter Textron Inc. announces the formation of the Bell Eagle Eye Team to develop a Vertical Take off and Landing Unmanned Aerial Vehicle ( VTUAV ) for a US Navy and Marine Corps joint service initiative. Bell, the world's preeminent supplier of vertical lift aircraft and a pioneer in the development of tiltrotor technology, has developed a tiltrotor UAV called the Bell Eagle Eye. Joining the Bell Eagle Eye Team are Raytheon, EG&G and Lockheed Martin, plus key subcontractors.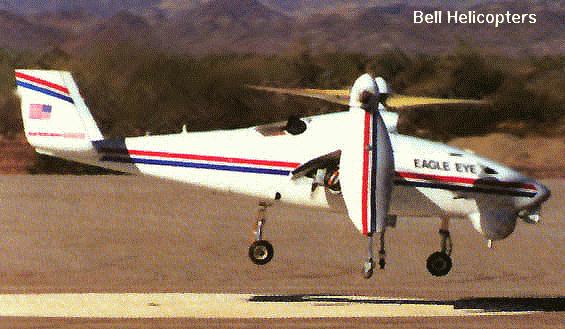 Raytheon and EG&G will lead the integration of the VTUAV Ground control System with the core element of the Tactical Control System (TCS) and provide assistance in integrating and installing the VTUAV aboard ships where they have particular expertise. Raytheon is a major provider of UAV Ground/Surface Control Stations and the system integrator for the Navy's TCS. EG&G is a member of the Raytheon team and has continuously supported the UAV TCS program.
Lockheed Martin leads the Bell Eagle Eye Team Shipboard Systems Integration team and has primary responsibility for integrating and installing the VTUAV system aboard the ships where they have expertise. Lockheed Martin has extensive experience in systems integration for naval surface vessels. Lockheed Martin is also the expert for the Q-70 computing systems being integrated into the Navy's fleet and will provide their expertise in that field as well.
The Bell Eagle Eye tiltrotor unmanned aerial vehicle (UAV) is revolutionary leap in UAV technology. Traditionally UAVs have been small fixed wing aircraft requiring either a runway or netting for retrieval. Normally runways are unavailable in the field and netting has proven to be a very hazardous form of UAV retrieval aboard ship often resulting in serious damage to or destruction of the aircraft. Vertical lift aircraft have the advantage of being able to takeoff and land anywhere. However, helicopter UAVs do not have the speed and efficiency of fixed-wing UAV aircraft. The Bell Eagle Eye is the perfect solution. With its rotors in the vertical position, the Bell Eagle Eye can takeoff, hover and land like a traditional rotary wing aircraft. By tilting its rotors to the horizontal position the Bell Eagle Eye can fly with the high speed and efficiency of a turbo-prop fixed wing airplane.
To demonstrate these capabilities Bell built the TR-911X, a fully integrated 7/8th scale Bell Eagle Eye Vertical Take-off and Landing Unmanned Aerial Vehicle (VTUAV) system which achieved 95 percent of the data requirements in a recent Navy contracted demonstration. Its nearest competitor achieved only 60 percent of the data requirements according to US Government assessments.
The Bell Eagle Eye Program Manager, Chuck Jacobus noted, "Bell's unique capability to leverage this extensive experience in support of the VTUAV program provides for full compliance with the performance requirements and meets nearly 50% of the objective requirements. In addition, the extensive contracted demonstration programs and company IR&D reduces risk and provides an exceptional foundation for the final design, development, testing and production of the VTUAV system."
The Bell Eagle Eye Tactical VTUAV flew under NAVAIR contract N00019-98-C-0051, VTOL UAV Demonstration Program at Yuma Proving Ground, AZ. The contract required 50 hours of land based flight tests to evaluate the performance and maturity of the aircraft and control system. The Eagle Eye Demonstrator aircraft was the first to finish the 50-hour Land Based Flight Test Task. Its flawless performance has set the standard for VTOL UAV systems.
In less than 90 days after its first flight on March 6, 1998, the single aircraft flew 55.5 hours and made 43 landings in tests which have expanded the aircraft's envelope and have proven its advertised performance and technology maturity claims. During the tests, the envelope was expanded to over 14,600 feet and more than 200 knots True Air Speed (TAS) in level cruise flight; while carrying 210 pounds of payload plus mission fuel, exceeding the objectives substantially. Performance in the "best endurance mission was more than 1.7 hours on station. And in the "best range" mission, the aircraft flew more than 315 nautical miles. Real time target imagery was provided during the flights.
Both the aircraft and ground control station performed flawlessly, getting up and going to work for every scheduled flight in a regimented 2-hour range test period. Maintenance requirements (other than pre-flight checks) were almost nonexistent.
The Eagle Eye executed all applicable demonstration objectives, and expanded the aircraft's flight envelope substantially. Capabilities demonstrated included:
Routine VTOL take-off and landings to a 24' helicopter landing spot

A launch and recovery accuracy better than the required 9.8'

Automated hover and landing in winds gusting to 32 knots

Stable hover out of ground effect at 1100 MSL in 95* temperatures while carrying 210 pounds of payload and 350 pounds of fuel

Recovery at take-off gross weight

The ability to fly (cruise) at speeds between 0 and 150 knots. (202 knots TAS cruise achieved with less than 90% power)

Cruise at 14,600' with a 200 pound payload (aircraft design limit >20,000 ft)

PMA-263 assessed the contractor's ability to provide the required performance data. Bell Helicopter's Eagle Eye was rated at 95%. The next best was 60%.
Bell is currently under contract to integrate the Government's Unmanned air vehicle Common Automated Recovery System (UCARS) into the TR911X system and demonstrate it in Yuma Arizona during January and February next year. The selection for the EMD program is scheduled for March 2000. This could lead to full production in 2003.

---
Bell Helicopter Textron is a $1.4 billion leading producer of commercial and military helicopters, and the pioneer of the revolutionary tiltrotor aircraft. Globally recognized for customer service, innovation and superior quality, Bell's global workforce of over 7,500 employees serves customers flying Bell aircraft in over 120 countries.
Textron Inc. is an $11 billion, global, multi-industry company with market-leading businesses in Aircraft, Automotive, Industrial and Finance. Textron has a workforce of over 65,000 employees and major manufacturing facilities in 27 countries. Textron is among Fortune magazine's "Global Most Admired Companies."