Thursday November 21, 2000
First AH-1Z rolled out
ARLINGTON, Texas, USA ( Bell Helicopter Textron Company Press Release ) - The Marine Corps newest attack helicopter, the AH-1Z was rolled out Monday, November 20, 2000, in a ceremony at Bell Helicopter Textron's Flight Research Center in Arlington, Texas.
The AH-1Z is the world's most advanced attack helicopter and is part of the H-1 Upgrade Program. This program will remanufacture 100 UH-1N transport helicopters and 180 AH-1W Super Cobra attack helicopters to an advanced configuration featuring common engines and flight dynamic components.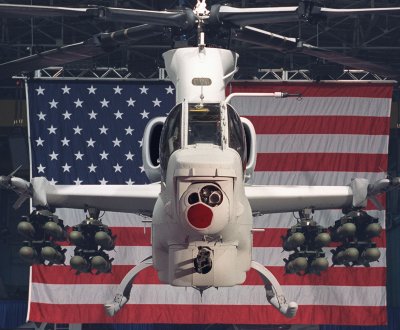 The H-1 Upgrade Program will result in 280 new aircraft for the US Marine Corps to operate beyond 2020. These will have "zero-time" airframes remanufactured with the latest technology. The speed, range, maneuverability and lift capability of both aircraft will be dramatically improved. The savings in maintenance training, ground handling, support equipment, and spare parts inventories add up to billions of dollars over the life of the program.
Current advanced technology will provide the H-1 Fleet with increased battlefield survivability and greater mission success with fewer combat losses. In addition the crashworthiness of both the UH-1Y and the AH-1Z is significantly enhanced.
Some of the upgrades include an enormous amount of commonality between the two aircraft (more than 85 percent). This includes the state of the art common glass cockpit, the GE-T700 engines, four blade all composite, hingeless, bearingless main rotor system and tail rotor, identical drive trains, hydraulics and electrical distribution systems.
By utilizing common systems the cost of the logistics support process for the two helicopters will be dramatically reduced and will allow for vastly improved shipboard operability. Far less critical shipboard space will be needed to store spare parts and support equipment to support the two helicopters.
Litton Guidance and Controls is on the H-1 Team as the supplier of the Integrated Avionics System (IAS). Litton will integrate and provide equipment such as the color multi-function displays, mission and weapons computers, advanced communication and navigation equipment, and all of the software that makes these units function with each other automatically. This integrated system will take a lot of the workload off the crew and let them concentrate on safely flying the aircraft and fighting the enemy.
First flight of the AH-1Z is scheduled for December 2000, with the UH-1Y first flight scheduled for 2001. Deliveries to the US Marine Corps will begin in 2004.