Wednesday April 19, 2000 :
A German Operator Takes Delivery of the 100th Best Selling EC 120B Colibri
Marignane, France ( Eurocopter Press Release ) - Following an invitation for bids open to all competitors, and a comparative assessment of five competing helicopters, the Spanish Defense Minister and Eurocopter signed by end 1999 a contract worth 100 million francs (15 million Euros), which set the terms for the supplying of 15 light single-engine EC 120B Colibri helicopters. The deliveries will begin in July 2000 and be completed by June 2001.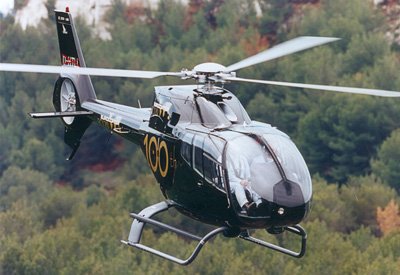 This event - a little more than 2 years after the very first Colibri rolled out - is yet further proof of the successful worldwide career of this best-selling helicopter. Current orders stand at 170 helicopters from more than 100 customers in 25 countries.
Thanks to its multi-purpose capability, the EC 120B Colibri can be used for different types of missions such as passenger and corporate transport, EMS but also for pilot training. For instance, last year on December 22 in Madrid the Spanish Air Force signed a procurement contract for 15 EC 120B Colibri.
The latest-generation Colibri owes this success to its five-seat capacity, its design based on customer recommendations (ECAT meeting) and its versatility, unquestionably the best in its category. And that's not all as it outstrips its competitors in terms of endurance, hover performance and payload/range
What's more, the EC 120B Colibri embodies most of the latest advances in dynamic component, powerplant, airframe and avionics technology.
Other advanced features include a very low-maintenance Spheriflex rotor head, and 8 asymmetric composite blades on its Fenestron tail rotor that reduce the noise level to 6.6 dB below the ICAO standard, making it the quietest helicopter in its category.
Its leading-edge technology power plant is based on a Turbomeca Arrius 2F turbine engine has low pollutant emission, very low fuel consumption and efficient maintenance. The Arrius 2F develops 504 shp (376 kW).
With numerous composite components in its airframe, the EC 120B Colibri offers a very spacious, ergonomic and comfortable cabin with an outstanding visibility - the largest in its category - carrying 5 passengers. The fuel tank has been separated into two parts to leave room for a large floor-level baggage compartment (0.8 cu. m) that can be accessed from inside and outside alike.
The EC 120B Colibri claims the distinction of being the first single-engine helicopter to meet the new crash safety-related JAR 27 regulations (structural strength of pilot and passenger seats and of fuel system).
The Colibri also features such innovations as an exceptionally easy-to-read instrument panel with color screens. Called the VEMD (Vehicle and Engine Multifunction Display), it shows the main engine and helicopter parameters. The VEMD synthesizes the screen data and displays the First Limitation Indication (FLI). It is backed by an aural FLI alarm, thereby considerably easing the pilot's workload. Safety is also enhanced for better mission accomplishment, notably in work with external loads. Moreover thanks to its central location on the instrument panel, single-pilot certification has been obtained with the pilot in the left or right seat.
The EC 120B Colibri now has a higher maximum takeoff weight of 1,715 kg, can transport a payload of more than 750 kg over 730 km at 230 km/h and can carry a sling load of up to 700 kg.
The helicopter's field of activities has been enlarged with the arrival early this year of three new items of optional equipment: a searchlight with variable cockpit-controlled elevation and azimuth to supplement the existing nose-mounted searchlight on the basic aircraft; 1.5-meter long skis weighing 8 kg for taking off and landing on snow-covered ground; and last of all, a single windshield wiper system with one motor and two wipers (removable as required).