Tuesday , September 12, 2000:
Indonesia May Buy Russian Copters
JAKARTA, Indonesia ( AP ) - Indonesia is considering buying Russian military aircraft for the first time since 1965, sidestepping a U.S. arms embargo, officials said Tuesday.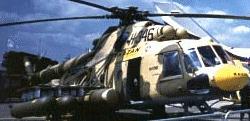 Navy chief Adm. Achmad Sutjipto said his service wants four Mil-17 helicopters to deploy marines to the country's trouble spots.
``It's impossible to get them from America,'' Sutjipto said late Monday, according to the state Antara news agency. ``I notice that Russia is most prepared to (provide them).''
Western nations, particularly the United States, have supplied military equipment to Indonesia in the past. But those countries embargoed weapons supplies to Jakarta after army-inspired violence last year in East Timor, a formerly Indonesian-ruled territory that had just voted for independence.
Although the European Union has since lifted restrictions, the United States retained its ban.
Col. Alexander Smirnov, Russia's military attache in Jakarta, said it would be the first time Indonesia has ordered Russian military equipment since 1965, when a failed communist coup ushered in 32 years of right-wing dictatorship by former strongman Suharto. Indonesia cut all military ties with Moscow after Suharto seized power.
``It is still in the preliminary stage,'' Smirnov said. ``Nothing has been finalized, including how many helicopters the Indonesians will buy.''
The Mil-17 is a widely exported utility helicopter. It can transport 28 soldiers or four tons of cargo. There are also gunship and anti-submarine warfare variants.
President Abdurrahman Wahid supports plans to double the navy's 130-ship fleet and improve its air transport and maritime reconnaissance capabilities. But analysts say the cash-strapped service cannot even afford to modernize its ships, many of which date back to the 1940s.