Thursday April 06, 2000
MD Helicopters selects Kaman Aerospace to provide helicopter fuselages
BLOOMFIELD, Conn., USA ( Kaman Aerospace Press Release ) - MD Helicopters, Inc. (MDHI), Mesa, Ariz., today announced its selection of Bloomfield-based Kaman Aerospace Corp. as the sole supplier of fuselages for MDHI's entire line of single-engine helicopters, including the MD 600N, MD 520N, MD 530F and MD 500E.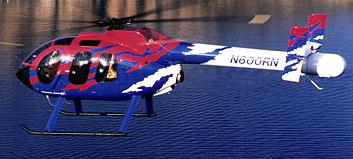 MDHI and Kaman have signed a multi-year agreement with a potential value of approximately $100 million.
The transfer of tooling to Kaman's Moosup, Conn., and Jacksonville, Fla. facilities already is underway. Kaman is slated to deliver its first fuselage, an MD 600N, on June 26. Fourteen more deliveries will follow this year. Production will more than triple in 2001, when deliveries will jump to 49, with an increase to 60 expected by 2002. Production is expected to remain at that level in subsequent years.
Walter R. Kozlow, president, Kaman Aerospace, said, "This is a major new program for Kaman, and we appreciate the confidence that MD Helicopters has in our ability to support their requirements for MD 500 and MD 600 Series airframes. This will provide a good balance to our in-house helicopter programs, the SH-2G Super Seasprite and K-MAX, and it further enhances Kaman's position as a key player in the global aerospace market."
MDHI Chairman and Chief Executive Officer Henk Schaeken said, "We are confident that this agreement with Kaman will be good for MDHI and good for our customers. Kaman knows helicopters and has a proven track record of delivering quality products on time."
Kozlow said the MD Helicopter program will require larger facilities in Jacksonville. The company has occupied a 45,000 square-foot facility with options on additional space for growth potential. Detailed parts and subassemblies made at the Moosup plant will be sent to Jacksonville for final airframe assembly.


MDHI is a subsidiary of RDM Holdings N.V., Netherlands, Antilles. In addition to its aerospace activities, RDM also builds submarines and other defense products. RDM created MD Helicopters through its purchase of the commercial light helicopter line from The Boeing Company in February 1999.
Kaman Aerospace is a subsidiary of Kaman Corp., based in Bloomfield, Conn. In addition to its helicopter programs, Kaman Aerospace is a major subcontractor for commercial and military aircraft, and is a leader in electro-optics, fuzing and safing devices for missiles, and other advanced technology products.