Sunday February 27, 2000
Floods Strand Hundreds in Mozambique
SAVE RIVER VALLEY, Mozambique ( Story by AP - Photos by Reuters ) - Helicopters plucked more than 1,500 people to safety Sunday as swollen rivers swept away almost everything in their paths in flood-ravaged Mozambique.
A new storm system began building off the coast Sunday.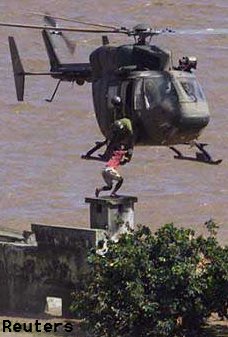 Many more people gripped whatever high ground they could find as waters continued to rise in the Save and Limpopo rivers of this southeast African country, one of the poorest in the world. They have been stranded for a week and desperately need food.
Without warning, the level of the Limpopo River rose rapidly early Sunday morning, submerging the town of Chokwe and dozens of surrounding villages in Mozambique's already flooded Gaza province in a matter of hours.
``These people went to bed last night with no sign of water,'' Michele Quintaglie of the World Food Program said of Chokwe residents. ``At 5 a.m., they woke up by hysterical screams telling them to get out. By early morning, the city was engulfed by water. By lunch, it was completely submerged.''
Groups of people huddled on tiny patches of land stretched out their arms to plead for help from one of only two rescue helicopters in the Save area. A lone man on the roof of a straw hut pointed his fingers to his mouth and rubbed his stomach.
Officials refused to speculate how many people already have been swept away in the vast area along the banks of the Save (pronounced sah-VEY) in central Mozambique.
``There's massive destruction along the Save River. It's taking everything in its path. Homes, villages. There are people stranded in trees and on homes. A lot of people are getting killed,'' said David Schaad, a World Food Program spokesman.
UNICEF's Ian Macleod estimated between 5,000 and 10,000 people were stranded in
About 3,000 more were marooned in southern Mozambique after the Limpopo burst its banks.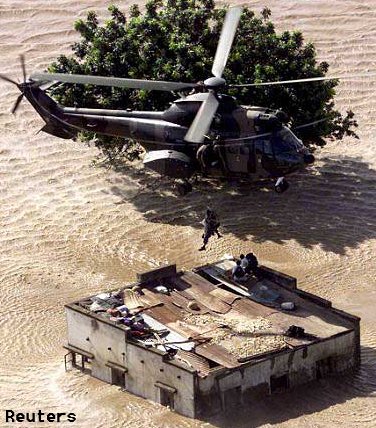 The known death toll in Mozambique and neighboring South Africa and Zimbabwe reached 200 from flooding in the last week. Police said Sunday that at least 33 people died and 20 were missing after a bus was swept off a flooded bridge two days earlier in northeastern Zimbabwe. Twenty passengers had survived.
Torrential rains began drenching southern Africa three weeks ago, and then Cyclone Eline roared through last week. As the remnants of the cyclone raced back to the Indian Ocean, a new storm system was developing off the coast of Mozambique and was expected to hit Monday.
In the Save valley, South African helicopters hoisted people aboard and dropped them a short distance away on slightly bigger raised patches of earth. With the nearest refueling point 125 miles away, rescues were going painfully slowly.
Journalists who flew 10 miles up the river mouth saw up to 1,000 marooned people.
One helicopter hoisted a woman and her baby aboard from the remains of a hut. Pigs, goats and cattle waded through the muddy water.
Pilot Chippy Pretorius said he had rescued 320 people, and had seen one human body and many dead animals in the water.
Farther south, the five South African helicopters in the Limpopo area saved 1,200 people before stopping for the evening, said Maj. Louis Kirsten of the South African force. The helicopters would return Monday, he said.
The South African and Mozambican governments were wrangling Sunday about who would pay for advanced plans to send five more helicopters and two planes, said Lt. Col. Jaco Klopper, commander of the South African rescue efforts.
Pilots were focusing on saving the children first and often had to push away desperate people trying to get on the fully loaded helicopters, said Michele Quintaglie of the World Food Program.
``It's a very dangerous situation right now because people are panicking,'' she said.