Thursday, August 31, 2000:
Sikorsky, Saab Agreement Supports Nordic Helicopter Program
STOCKHOLM, Sweden ( Sikorsky Press Release ) - Sikorsky Aircraft Corporation of the United States and Saab AB of Sweden have signed a Memorandum of Agreement (MOA) to provide helicopter systems design and integration for Sikorsky's S-92 Helicopter for the Nordic Standard Helicopter Program (NSHP).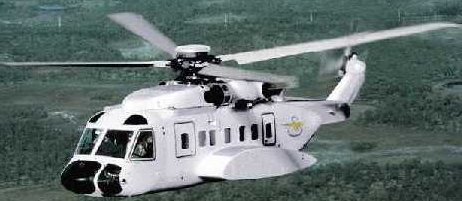 Under the terms of the MOA, signed Aug. 25, Sikorsky and Saab will work toward a subcontract agreement for the design, development, test and integration of helicopter and missions systems for the S-92 Nordic Standard Helicopter Program. Sikorsky has submitted a responsive proposal to fulfill the NSHP requirement with the S-92, a new helicopter that combines high performance with the lowest direct operating and maintenance costs in its class.
The Sikorsky proposal includes a robust industrial participation plan comprised of jobs, sales, technology transfer and co-production in the Nordic Alliance countries. The Sikorsky S-92 Nordic Alliance includes several industry-leading corporations based in the region, along with local and European subsidiaries of other leading multi-national aerospace and defense companies.
"The signing of this agreement further enhances Sikorsky's commitment to provide an unparalleled industrial cooperation program for the Nordic campaign" said Sikorsky's James Satterwhite, Vice President - Business Development. "This Memorandum of Agreement further enhances Sikorsky's ability to support the helicopters in the Nordic region."
Sikorsky Aircraft Corporation, based in Stratford, Conn., is a world leader in helicopter design, manufacturing and service. Sikorsky is a subsidiary of United Technologies Corporation, of Hartford, Conn., which provides a broad range of high-technology products and support services to the aerospace and building systems industries.
Saab AB, a leading Industrial firm in Sweden is active in the aircraft, space and defense industries and supplies advanced products and systems based on sophisticated information technology. Its subsidiary companies and business units focus on core aerospace operations.