Tuesday, January 25, 2000:
Sikorsky says wins first S-92 orders
STRATFORD, Conn.,USA ( Reuters ) - Sikorsky Aircraft Corp., a unit of United Technologies Corp. , said on Tuesday it has signed a launch customer for its new S-92 helicopter.
Halifax, Nova Scotia-based Cougar Helicopters, a company that transports workers to offshore oil rigs, has agreed to buy up to five of the new 19-seat helicopters, Sikorsky said.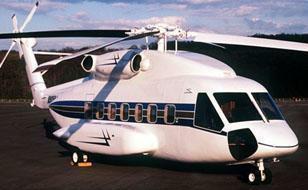 Financial terms were not disclosed, but the offshore variant of the S-92 costs about $12.5-13 million each, a company spokesman said.
Deliveries will begin in 2002, and Sikorsky said it expects to announce more orders soon. Other potential customers are in the offshore oil and executive transportation business.
The S-92 will also be marketed for military use.
``Cougar makes an ideal launch customer for us,'' said Tommy Thomason, Sikorsky's vice president of civil helicopter programs. ``They will put the aircraft to the test with very high utilization, actual icing conditions, and a requirement for the high service levels we have designed in.''
The S-92, which Sikorsky is building with five other companies around the world, is on track to win Federal Aviation Administration certification next year, the company said.
``This is a big event for us, because it marks where the first aircraft of this new type will go, and it's not every day or even every year that a new helicopter is introduced,'' said Bill Tuttle, a Sikorsky spokesman.
The S-92 is the industry's first new ``medium'' category helicopter (weighing from 15,000 to 35,000 lbs, or 6,818 to 15,909 kg) in 15 years.
Stratford, Conn.-based Sikorsky, one of the world's biggest helicopter makers, had 1999 revenues of $1.4 billion. It delivered 65 aircraft last year, Tuttle said.