Thursday January 6, 2000
Kaman SH-2G(A) Super SeaSprite for Australia begins initial flight testing
BLOOMFIELD, Conn., USA ( Kaman Aerospace Press Release ) - The production prototype SH-2G(A) Super Seasprite helicopter for the Royal Australian Navy has begun initial flight tests at Kaman Aerospace Corp's. headquarters here.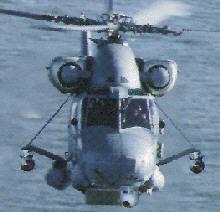 The aircraft is the first of 11 multi-mission SH-2G(A) aircraft being built for the Royal Australian Navy. Kaman Chief Test Pilot George Haliscak said, "The initial test objective is to test the dynamic components and instrumentation to make sure everything is working properly. The flights have gone very well so far and the aircraft has performed as expected."
Haliscak said flight testing will continue with a progressive buildup of the flight envelope and a staged expansion of the avionics capability. "We are taking a phased approach to incorporating the avionics complement which puts safety first and allows pilots and engineers to comparatively evaluate new systems as they come on line," he said.
When delivered early in 2001, the SH-2G(A) Super Seasprite will be the most advanced intermediate maritime helicopter available. "This aircraft employs avionics, sensors, weapons and mission systems that are comparable to those found on the most advanced rotorcraft flying today," said Frank Widmann, Kaman's vice president for program management.

Integrated Tactical Avionics System

It will include an Integrated Tactical Avionics System (ITAS) being developed by Litton Guidance and Control Systems. The system will contain four active matrix liquid crystal color multi-function displays, two smart data entry units with liquid crystal color displays, and two redundant mission data processors. Hands on collective and cyclic stick controls and a multi-slew controller are interfaced with ITAS to provide a robust human-machine interface. The high level of automation provided by the onboard computer systems and advanced avionics will allow a two-person crew to successfully perform the missions of the SH-2G(A) during day, night and adverse weather conditions and provide effective sea control over a large area.
Haliscak said the prototype aircraft currently has two of the four display screens installed alongside standard cockpit instrumentation to allow comparative digital and analog information to be evaluated. Full installation of the ITAS hardware will occur in the first quarter of 2000, and software integration and test will continue throughout the year.

Advanced Composite Main Rotor

The Australian SH-2G(A) will also be equipped with advanced technology Composite Main Rotor Blades. The new composite blade is designed for longer life and greater damage tolerance. It also provides a significant performance increase that translates into increased payload, extended range and greater time on station.

Automatic Flight Control System

The aircraft features a digital Automatic Flight Control System (AFCS) which provides it the capability to fly through an automatic approach to a ship or airfield and to conduct automatic flight patterns such as for search-and-rescue. It also maintains set heading, altitude, and airspeed for point-to-point navigation, and includes an automatic hover hold capability. The AFCS is integrated with two redundant Litton LN100 embedded GPS inertial systems, which provide a highly accurate and reliable navigation solution.
The Australian Super Seasprite will operate from the Royal Australian Navy's eight ANZAC-class frigates and has the capability to also operate from other frigates and air-capable support ships. The SH-2G(A)'s primary role is to function as a force multiplier and increase a ship's effectiveness by significantly expanding surveillance capability, providing over-the-horizon warning, targeting and engagement of potential threats, and contributing to the ship's combat capabilities.
In addition, the aircraft will be capable of conducting anti-surface and anti-submarine warfare, search-and-rescue missions, medical evacuations and utility roles. Key systems included in the SH-2G(A) are the Telephonics APS 143B(V)3 radar with ISAR capability, the Raytheon AAQ-27 (3FOV) FLIR, the Elisra AES-210 Electronics Support Measure suite, and a Link 11 system being developed by Litton. Weapons include the Kongsberg Penguin missile and the Raytheon MK-46 torpedo.




Kaman Aerospace Corp. is a subsidiary of Kaman Corp. of Bloomfield, Conn.
In addition to the SH-2G Super Seasprite, Kaman manufactures the K-MAX external lift helicopter, is a major subcontractor for commercial and military aircraft, and a leader in electro-optics and other advanced technology products.

Database: SH-2G in RAN service