Tuesday August 22, 2000
Cost Reduction Affordability Team meets to reduce V-22 costs
Fort Worth, Texas, USA ( Bell Boeing Tiltrotor Team Press Release ) - The next major V-22 production decision milestone (MS III) is scheduled for November 2000. This milestone will address the V-22 program's readiness to proceed with full rate production.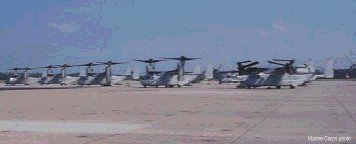 VMMT-204's production MV-22Bs are parked on the ramp at MCAS New River, N.C. near Jacksonville.
In anticipation of the production decision milestone, the government and Bell- Boeing want to ensure that the V-22 is produced and delivered at the lowest price possible leading to an executable program within the government's planned budgets.

To this end, a Bell-Boeing-government Cost Reduction Affordability Team (CRAfT) was established in January 2000 to provide a mechanism for collecting and implementing Cost Reduction Initiatives (CRI) using a methodology similar to the successful cost reduction efforts on the Air Force C-17 and F-22 programs.

Since its establishment, the Bell-Boeing team has identified some 437 CRIs. Budgetary estimates along with an implementation strategy have been prepared for the most promising of these ideas with anticipated turn-on during August-November of 2000. The intent of the CRAfT is to make cost reduction an on-going effort for the duration of the V-22 program.

Objectives of the CRAfT are as follows:
Analyze the V-22 program with special emphasis on Lots 4-11 production, to determine cost drivers and time-phased cost reduction goals.
Recommend management actions to ensure successful program execution within current government budgets.
Identify program CRIs to reduce the V-22 unit price to achieve a program cost objective of $41M per aircraft in FY86 base year dollars for Lots 5 and beyond.
Facilitate the development of a joint cost model which results in annual V-22 cost estimates based on joint government/contractor agreed-to factors, assumptions, and CRIs.

Supplier Conference



A part of the CRAfT review process focused on that portion of the aircraft that is procured from the multitude of V-22 suppliers. As with primes, Bell and Boeing, many subcontractors have a vested interest in the continued viability of the program. On May 9 and 10, Bell, Boeing and NAVAIR conducted a supplier conference with a representative number of subcontractors. The purpose of the meeting was to explain the affordability issue and to solicit cost reduction ideas from the representatives. Col. Nolan Schmidt, V-22 Program Manager, explained the current affordability issue faced by NAVAIR. John Murphey, President of Bell Helicopter Textron, and Al Haggerty, Vice President of Engineering for Boeing Aerospace and Missiles. Both explained the efforts at the prime contractor level to reduce costs and solicited support from the attendees. They asked all of the V-22 suppliers for any ideas on how to reduce the cost of the aircraft. The general theme was that there are "no dumb ideas" and all ideas would be evaluated. A great number of ideas have been put forth by suppliers, and Bell Boeing technical and admin staffs are hard at work evaluating the input. Once evaluation is complete, decisions will be made as to how to expand the scope of the CRAfT effort to the entire supplier base. Pending that initiative, any firm or individual who has an idea that could reduce cost while maintaining the capabilities of the aircraft is encouraged to submit those ideas through their appropriate procurement focal at Bell or Boeing.
Customers: We have great faith in Osprey reliability
When senior U.S. military officers and Boeing officials insisted on being the first passengers transported aboard a V-22 Osprey after a crash that killed 19 U.S. Marines, how much risk did they take? No more than if they had flown in any other well-proved military aircraft, say the participants. General James Jones, commandant of the U.S. Marine Corps, was so committed to and confident in the safety of the aircraft that he took along his wife, Diane.

Boeing Senior Vice President for Navy and Marine Corps programs Patrick Finneran says he actually looked forward to riding on the aircraft. "I was thrilled when General Jones called and invited me to join him aboard the V-22," he said. "The flight was a great experience. The Osprey is clearly an exceptional aircraft that fills a vital role in the defense of our nation." Later, Gen. Jones said that he was making good on a pledge to be able to tell the families of the accident victims that the April 8 tragedy was "not related to any design flaws." The Marine review of the accident ruled out any structural flaws. The U.S. Marine data showed that in the last seconds of its flight over Tucson, Ariz., the rotorcraft was in a high rate of descent at a relatively low forward air-speed. These characteristics can lead to a phenomenon known as "power settling," which can result in a loss of lift in all rotor systems, (not unique to tiltrotors).

The V-22 tiltrotor, with its triple-redundant fly-by-wire flight controls, is considered by the Marines to be much safer as well as more capable than the Vietnam-era CH-46 and CH-53D helicopters that it will replace. It flies twice as fast and three to five times further than conventional helicopters. During operational evaluation flights, the aircraft had safely flown more that 40 troop-lift missions and carried more than 700 troops.