Saturday, March 24, 2001:
Helicopter escape from French prison
St Tropez , France ( AP ) - Three prisoners have escaped by helicopter from a jail in the south of France, prison authorities said.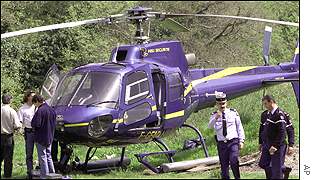 The convicts abandoned the helicopter and
transfered to a getaway car
An accomplice hijacked the helicopter from an airfield at nearby St Tropez and forced its pilot to fly to the prison in Draguignan.
The helicopter landed in a courtyard of the prison that had no protective netting overhead.
The three inmates - who are described as "dangerous" - jumped aboard and it took off before guards had time to react, prison officials and local police said.
"The whole thing was over in a flash," a prison guard said.
Getaway car waiting
The helicopter landed some 60 kilometres (37 miles) from the jail near the village of Auribeau-sur-Siagne, where the pilot was released and a getaway car was waiting.
After the escape prison officials immediately dispatched search teams around the region.
The convicts have been identified as Emile Forma-Sari and Jean-Philippe Lecase - both of whom are Corsican - and Abdelhamid Carnous, whose nationality was not immediately known.
All three were convicted of armed robberies and other crimes and one of the men was serving a sentence until 2012, police said.