Wednesday August 24, 2005
Bell Helicopter's Canadian Plant Deliveres 3,000th Aircraft
MIRABEL, QUEBEC, Canada ( Bell Helicopters Press Release) - Today, at Bell Helicopter's Mirabel facility, Jacques St-Laurent, President of Bell Helicopter Textron Canada Limited (BHTCL), hosted an official ceremony marking a milestone: the delivery of the 3000th helicopter assembled in Mirabel since 1986.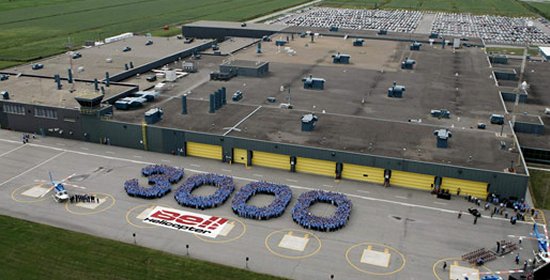 Mike Redenbaugh, Chief Executive Officer of Bell Helicopter Textron Inc., proceeded with the presentation of the keys to Air Logistics' officials, Bill Chiles and Mike Suldo. The ceremony was held in the presence of the 1,600 plus employees who joined together and formed the historic number: 3000.
"Today's event reflects almost 20 years of excellence and contribution to the economic growth of Quebec and Canada. I wish to thank Bell Helicopter's team here in Mirabel and in Fort Worth, as well as our worldwide suppliers. Congratulations to all on this major achievement", declared Jacques St-Laurent.
"The Bell facility in Canada is a very critical part of our business. Our world reputation for quality products begins here in Mirabel. This 3000th aircraft represents the dedicated, professional high level of performance of the workforce. I am proud to be associated with them", added Mike Redenbaugh.
The helicopter delivered by BHTCL is a Bell 412, a model BHTCL has been assembling and supporting for 16 years already. Air Logistics, the owner of this 3000th helicopter, will be flying the famous aircraft. "This Bell 412 will be used to provide helicopter transportation, maintenance and other support services to our customers in the oil and gas industry, throughout the Gulf of Mexico. We continue to rely on Bell Helicopter's employees to support us in this mission", said Bill Chiles, CEO of Offshore Logistics, Air Logistics' parent company.
Today's ceremony follows recent announcements made by Bell Helicopter. Firstly, the MAPL project, made public last February, involves the design and assembly of a new family of commercial light helicopters. More recently, on August 1st, Bell Helicopter announced it had landed a major contract with the U.S. government for the delivery of 368 Bell ARH. The impact for the Mirabel facility is estimated at US$700 million.
As a result of these announcements and increases in worlwide sales, BHTCL is actively recruting an additional 600 persons. By the end of 2007, this will bring the workforce to a record 2200 employees in Mirabel only. Bell Helicopter anticipates its suppliers will increase accordingly.

BHTCL is a division of Bell Helicopter Textron Inc. Inaugurated in 1986, the 51,000-square-meter Mirabel facility has the exclusive world production mandate for Bell Helicopter's commercial products and directly employs approximately 1,600 people.
Bell Helicopter Textron Inc., whose headquarters are located in Fort Worth, Texas, is a subsidiary of Textron Inc., a leading producer of commercial and military helicopters and the pioneer of the revolutionary tilt-rotor aircraft. Globally recognized for customer service, innovation and superior quality, Bell's global workforce of over 7,500 employees serves customers flying Bell aircraft in over 120 countries.
Textron Inc. is a US$10 billion multi-industry company with 44,000 employees in 40 countries. The company leverages its global network of aircraft, industrial and finance businesses to provide customers with innovative solutions and services. Textron is known around the world for its powerful brands such as Bell Helicopter, Cessna Aircraft, Jacobsen, Kautex, Lycoming, E-Z-GO and Greenlee, among others.
news: Bell awarded Army contract to build 368 ARH ( Jul 29, 2005 )