Monday December 5, 2005
Bell Helicopter's Eagle Eye TR918 Unmanned Aircraft System Receives First Ever FAA Certification for Testing of a Vertical Lift Unmanned Aircraft
FORT WORTH, TEXAS, USA ( Bell Helicopters Press Release) - Bell Helicopter, a unit of Textron Inc., today announced that its Eagle Eye TR918 Unmanned Aircraft System, or UAS, has received it's certificate of airworthiness for experimental flight testing from the Federal Aviation Administration. This certification represents the first certificate of airworthiness for experimental flight-testing ever issued by the FAA to a vertical lift UAS.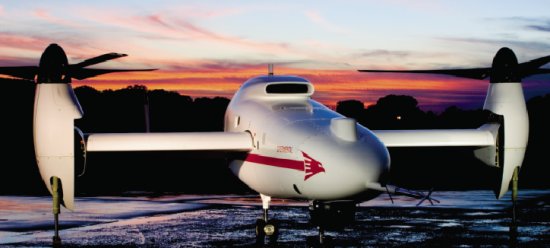 "This is a tremendous accomplishment that many people from both Bell Helicopter and the FAA have been working very hard to achieve," explained Kevin Connell, Vice President of Bell Helicopter's XworX facility. "Not only are we celebrating the certification of the Eagle Eye TR 918, but we are also celebrating the fact that with this first ever certificate of airworthiness for experimental testing of a vertical lift unmanned aircraft, Bell Helicopter is once again leading the way in the vertical lift industry. Flight testing will be conducted at a recently opened Bell XworX facility in West Texas"
"This is another example of Bell Helicopter's leadership in vertical lift technology," said Bell Helicopter Chief Executive Officer, Mike Redenbaugh. The successful experimental flight certification of Bell's Eagle Eye TR918 UAS is the culmination of nearly a year of preparations, coordination and cooperation between Bell Helicopter and the FAA.
"The approval of experimental flight certification by the FAA is an example of government and industry teamwork," explained Bob Ellithorpe, Bell Helicopter's Director of Unmanned Systems. "The FAA and Bell Helicopter executed a detailed plan over the last several months that today yielded the approval of an Experimental Flight Certification for the Eagle Eye TR918 UAS...we are now cleared to take to the air and begin flight test operations."
During the certification process, an eight member team made of representatives from FAA headquarters in Washington D.C. and the FAA Southwest Region, scrutinized every aspect of the Eagle Eye program from hardware and software to operational procedures and quality control. "With this successful certification, we can now demonstrate to the world the remarkable capability of a vertical lift, tiltrotor UAS like the Eagle Eye TR918," Ellithorpe said. "This system will provide military and commercial operators with multiple capabilities ranging from homeland security to pipeline patrol. Ultimately, Bell's objective is to provide a family of unmanned systems that give our customers the means to more effectively accomplish their missions."
According the Redenbaugh, the Bell Helicopter funded Eagle Eye TR918 program is a great example of Bell Helicopter and Textron's commitment to continue to invest in vertical lift.
"This is a great example of Bell Helicopter continuing to advance the overall strategy of being in both military and commercial business, in both tilt rotors and helicopters and in both manned and unmanned aircraft," Redenbaugh said.

Bell Helicopter is a leading producer of commercial and military helicopters and the pioneer of the revolutionary tilt rotor aircraft. Globally recognized for customer service, innovation and superior quality, Bell's global workforce serves customers flying Bell aircraft in over 120 countries.
Textron Inc. is a $10 billion multi-industry company with 44,000 employees in 40 countries. The company leverages its global network of aircraft, industrial and finance businesses to provide customers with innovative solutions and services. Textron is known around the world for its powerful brands such as Bell Helicopter, Cessna Aircraft, Jacobsen, Kautex, Lycoming, E-Z-GO and Greenlee, among others.
News: Bell Eagle Eye completes autoland tests ( May 17, 2000 )
News: Bell Eagle Eye Team UAV partners named ( Nov 7, 1999 )