Thursday December 8, 2005
Bell Boeing Delivers First V-22 Block B
AMARILLO, TEXAS, USA ( Bell Boeing Program Office Press Release) - Bell Boeing delivered the first Block B version of the V-22 Osprey today to the U.S. Marine Corps in ceremonies at Bell's manufacturing facility here. The Block B aircraft has software upgrades, reliability and maintainability improvements over existing V-22 aircraft.
It was accepted by Col. Bill Taylor, PMA 275 Program Manager, Naval Air Systems Command, who has responsibility for the management of the V-22 Program for the Government, and LtGen Jim Amos, Commanding General, 2nd Marine Expeditionary Force. The aircraft will enter service with Marine Corps squadron VMM 263 at Marine Corps Air Station new River, N.C.
"The Osprey remains at the very soul of our Corps' ability to fight future conflicts across a widely disbursed battlefield," explained LtGen Amos, adding, "Battlefields, where the tyranny of distance is solved with speed, and where an irregular enemy who chooses to fight at an urban marketplace or at an ambush site in a wadi is faced with the dilemma...'where are they...I know they are coming...I just don't know when or where.'
"Our Ospreys will operate in the enemy's backyard; they will do it quickly and quietly. And when they come, they will deliver the deadliest of weapon systems...United States Marines," LtGen Amos added.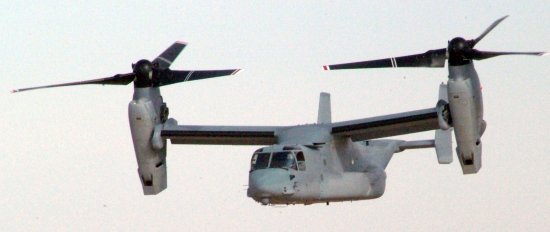 John Lockard, Vice President and General Manager, Boeing Naval Systems, said the delivery was another significant milestone in providing a much-needed capability to the Marines. "The V-22 is revolutionary in terms of the capabilities it brings to the warfighter, yet today's success is attributed to the age-old virtues of commitment and teamwork - between the Marine Corps, Bell and Boeing," he said.
"This is not only the first V-22 that will go to a combat unit, but it is the 19th V-22 we have delivered this year," explained Bell Executive Vice President and Chief Operating Officer John Bean, adding, "This is important because one year ago Bell Boeing committed to delivering 19 Ospreys in 2005. Today we delivered on that commitment."
In September 2005, Bell Boeing was granted approval by the United States Defense Department for Full Rate Production (FRP) of the V-22 Osprey. Current plans include the delivery of 360 aircraft to the U.S. Marine Corps, 50 for the U.S. Air Force and 48 for the U.S. Navy. With FRP, the U.S. Government has authorized Bell, a Textron company (NYSE:TXT) and Boeing (NYSE:BA) to increase current low-rate production of 11 aircraft per year up to 48. The FRP decision by the Defense Acquisition Board followed the successful completion of extensive Operational Evaluation testing, conducted last summer by the USMC.
The revolutionary tiltrotor technology combines fixed-wing airplane and vertical lift capabilities into one efficient and extremely capable aircraft that can take off and land like a helicopter and fly like an airplane, providing military customers with significant improvements in combat capabilities - including speeds and range two to three times more than that of conventional helicopters, as well as increased payloads, survivability and reliability.

Bell Helicopter, a subsidiary of Textron, Inc., is a $1.6 billion, leading producer of commercial and military helicopters, and the pioneer of the revolutionary tiltrotor aircraft. Globally recognized for customer service, innovation and superior quality, Bell's global workforce of over 8,000 employees serves customers flying Bell aircraft in over 120 countries. Textron, Inc., is a $10 billion multi-industry company with more than 43,000 employees in nearly 40 countries. The company leverages its global network of aircraft, industrial and finance businesses to provide customers with innovative solutions and services. Textron is known around the world for its powerful brands such as Bell Helicopter, Cessna Aircraft, Kautex, Lycoming, E-Z-GO and Greenlee, among others.
A unit of The Boeing Company, Boeing Integrated Defense Systems is one of the world's largest space and defense businesses. Headquartered in St. Louis, Boeing Integrated Defense Systems is a $30.5 billion business. It provides network-centric system solutions to its global military, government, and commercial customers. It is a leading provider of intelligence, surveillance and reconnaissance systems; the world's largest military aircraft manufacturer; the world's largest satellite manufacturer and a leading provider of space-based communications; the primary systems integrator for U.S. missile defense and Department of Homeland Security; NASA's largest contractor; and a global leader in sustainment and launch services.