Friday August 11, 2006 :
Irish Air Corps Receive Their First AW139
UK / Italy : (AgustaWestland Press Release ) - The first of four AgustaWestland AW139 helicopters for the Irish Air Corps was handed over by Mr. Bruno Spagnolini, AgustaWestland's Managing Director to Brigadier General James, General Officer Commanding, Irish Air Corps, in the presence of Major General Pat Nash, Deputy Chief of Staff (Operations), Irish Defence Forces, at Vergiate in Italy yesterday. This handover also marks the first delivery of an AW139 to a military customer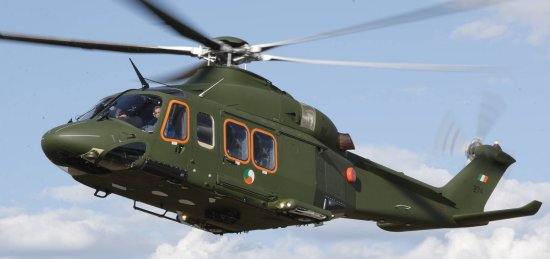 Flying training of Air Corps pilots will now start and will continue until late October, when the second helicopter will be handed over.The AW139 helicopters for the Irish Air Corps are equipped with a range of role equipment including AM/FM tactical radios, a Forward Looking Infra-Red (FLIR) camera with a fifth cockpit LCD mission display. In the cabin the aircraft can be quickly reconfigured from the troop transport role with ten crashworthy troop seats to the medical evacuation role with air ambulance equipment plus seats for attendants. Additional role equipment includes abseiling and fast rope systems as well as a dual machine gun installation.
The AW139 was selected by the Irish Department of Defence in December 2004, after a full evaluation of the aircraft against several competitors. Soon after a contract was signed for four aircraft plus two options. The Irish Air Corps will use the aircraft for a range of duties including transport of special operation units of the Defence Forces, air ambulance, overland search and rescue and VIP transport.
The AW139 is powered by two Pratt & Whitney PT6C-67C engines each rated at 1679 shp for take-off, giving the aircraft class leading hot and high performance as well as unmatched single engine safety. The large unobstructed 8 m3 cabin with large sliding doors allows easy access and egress for troops and equipment. In the cockpit the aircrew have a fully integrated digital avionics and cockpit display system, which includes a duplex autopilot, flight management system with GPS and a radio navigation system.
Over 190 AW139 helicopter have been ordered by mid-2006 making it the best selling helicopter in the medium twin class. Over 40 aircraft have now been delivered to customers in Europe, Asia, Africa, North America and the Middle East.


database: Irish Air Corps