Wednesday September 20, 2006 :
Nigerian Government Orders AW139 Helicopters
UK / Italy : (AgustaWestland Press Release ) - AgustaWestland is pleased to announce that it has signed a contract with the Nigerian Government for four AW139 helicopters configured for corporate transport and Search and Rescue (SAR) missions. The helicopters will be operated by the Nigerian State House, the Government of River States and the Nigerian Navy. This contract brings the number of firm orders for the AW139 to almost 200, making it the best selling medium twin helicopter today.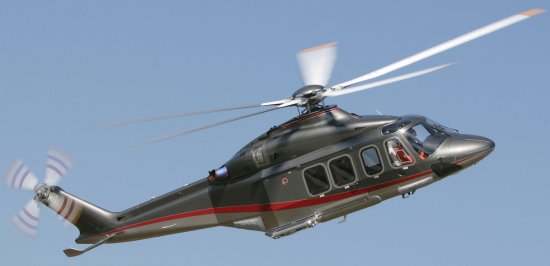 The AW139 is a new generation medium twin-turbine helicopter setting new standards against which all new medium twin will be measured. Designed with inherent multi-role capability and flexibility of operation, the AW139 is capable of carrying up to 15 passengers or six litters with four medical attendants at the highest speed, in the most spacious cabin and with the best power reserve of any other helicopter in the medium twin-engine class.
Passenger accommodation is provided in a large and unobstructed cabin. The baggage compartment, measuring 3.4 cubic meters, is accessible from the cabin and externally through two large hinged doors on both sides of the rear fuselage. The impressive list of possible cabin/mission capabilities is complemented by an equally impressive list of design and avionics features. Included among these is the Honeywell Primus EpicŪ fully integrated avionics system that incorporates a 4-axis digital AFCS and large flat panel colour displays in the cockpit.
A new state-of-the-art five-bladed main rotor and a four-bladed tail rotor provide a smooth ride together with high speed and a low noise signature. Easy ground handling and taxiing, as well as operation from unprepared terrain, is made possible by the heavy-duty nose-wheel tricycle landing gear, which is retractable for higher speed. Fully crashworthy systems and seats are standard in the AW139, while icing protection will be available as an option.
To date over 40 aircraft have been delivered covering a wide range of applications including EMS, offshore transport, VIP transport and paramilitary roles.