Wednesday March 8, 2006 :
First HH-3F With New Integrated Avionics Suite Delivered To The Italian Air Force
UK / Italy : ( AgustaWestland Press Release ) - AgustaWestland, a Finmeccanica company, is pleased to announce today the delivery of the first HH-3F helicopter to the Italian Air Force with a new integrated avionics suite. The upgrade programme is part of a multiyear programme to improve the operational capabilities of the Air Force's helicopter fleet.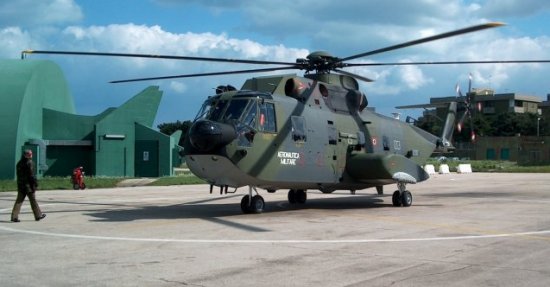 All the HH-3F helicopters currently operated by 15° Squadron, based at Pratica di Mare – Rome, are being upgraded by AgustaWestland which is responsible for design, development and integration of the new avionics suite. The new avionics system includes LCD cockpit primary flight displays, an upgraded integrated navigation system with GPS, a Head-up-Display and an improved communications suite. Additionally the cockpit has been made Night Vision Goggle compatible and the aircraft defensive suite has been updated with an integrated radar and laser warning system. The new avionics suite and advanced cockpit will improve crew efficiency and the operational capability of the aircraft which is used for SAR and Combat SAR.
Bruno Spagnolini, AgustaWestland's Managing Director Commercial Programmes said:" The delivery to the Italian Air Force of the first HH-3F in the newly upgraded configuration is an important milestone in the long lasting collaboration between AgustaWestland and the Italian Air Force. Together we have reached an important target allowing 15° Squadron to enhance their mission capabilities".
All the upgrade work, development and flight testing activities are being performed by AgustaWestland at its Brindisi Plant in Italy.

AgustaWestland, a Finmeccanica company, is one of the largest helicopter companies in the world. The company offers an unrivalled range of helicopters, training and support solutions to satisfy the requirements of civil and military customers. AgustaWestland has its primary operations in Italy, the United Kingdom and the United States of America.


Database: Aeronautica Militare Italiana