Tuesday September 26, 2006 :
AgustaWestland Awarded Indian Navy Sea King Recovery Contract
UK / Italy : ( AgustaWestland Press Release ) - AgustaWestland, a Finmeccanica Company, is pleased to announce that it has been awarded a contract by the Indian Navy to return to service seven Sea King Mk 42B helicopters. Work on the contract will commence immediately with AgustaWestland providing a specialist team that will work with personnel from the Indian aerospace industry to undertake the recovery programme.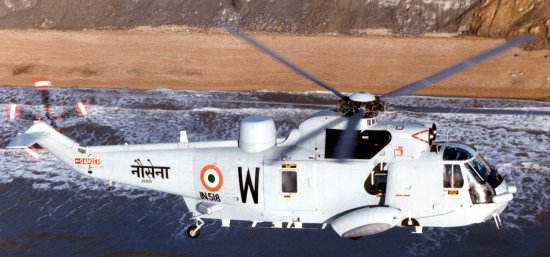 Hindustan Aeronautics Limited (HAL) will undertake the repair and overhaul of "rotable" items including the transmission and rotor heads in support of this contract. In March 2004 AgustaWestland signed a contract with HAL to enable it to perform indigenous Sea King repair and overhaul work in support of the Indian Navy Sea King fleet.
Bert Brookes, AgustaWestand UK`s Customer Support Director, said "We are delighted to have agreed this contract with the Indian Navy who are the largest export customer for our Sea King helicopters. The contract will ensure that seven existing airframes will be returned to service enabling the Indian Navy to achieve increased numbers at sea. This contract will aid AgustaWestland to further develop its business links with the Indian aerospace industry and will result in additional work for HAL's Sea King repair and overhaul facility."
The Indian Navy has received a substantial number of AgustaWestland Sea King helicopters including advanced Sea King Mk.42B and Mk.42C variants which were delivered in the late 1980ís.