Friday June 16, 2006
USMC MV-22 Osprey completes non-stop flight
PATUXENT RIVER, Md, USA ( Bell Helicopters Press Release ) - Marine Corps crews successfully completed two non-stop, coast-to-coast flights this week with a pair of MV-22 Osprey tiltrotor aircraft, as a precursor to a transatlantic flight to England with the same Ospreys in July.
The Marine Corps is conducting the long-distance flights to develop tactics, techniques and procedures for long-range, over-water movements of MV-22s, in preparation for the first combat deployment in 2007.
"Unlike conventional rotary wing aircraft, which must be transported into overseas theaters of operation aboard amphibious shipping or heavy lift transport planes, the V-22 can self-deploy thousands of miles over water to get itself to the fight," said Col. Bill Taylor, V-22 Osprey joint program manager.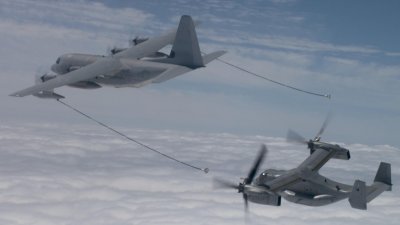 That ability was proven during operational evaluation in 2005, when the Osprey demonstrated a projected range of more than 2,600 nautical miles on a single aerial refueling. The MV-22 can be configured with up to three mission auxiliary tanks in the cabin to enable these kinds of ranges. Marine Tiltrotor Operational Test and Evaluation Squadron 22 (VMX-22) launched two Ospreys from their home at Marine Corps Air Station New River, N.C., Monday, landing at Marine Corps Air Station Miramar, Calif., nine hours and 2,100 nautical miles later. They returned to New River Thursday, making that flight in just eight hours. Altitudes on the flights ranged from 14,000 to 16,000 feet, with sustained ground speeds between 240 and 300 knots.
The aircraft were configured with two of the three available auxiliary fuel tanks. The VMX-22 crews completed two aerial refuelings en route with KC-130J tankers from Marine Aerial Refueler Transport Squadron 252 (VMGR-252), to further validate the Osprey's long-range fuel system capabilities in support of future combat deployments.
"We didn't have to do two aerial refuelings, but we wanted to fill up those [auxiliary fuel tanks] and burn them out a couple times, to increase our experience with the systems," said Lt. Col. Chris Seymour, VMX-22 executive officer and pilot of one of the two Ospreys. "The flights have gone extremely well."
"The mission planning computer systems onboard that help us manage our long range flights were accurate within a quarter percent of predicted performance," said Col. Glenn Walters, VMX-22 commanding officer. Actual flight time, for example, was just three minutes off from the predicted flight time, on a trip of more than 2,000 miles. "That gives us a great deal of confidence in over-water flights ... enabling us to make good decisions on how to get long distances," he said.
This week's overland flights were structured as rehearsals for the transatlantic deployment to England in July. VMX-22 will depart from Goose Bay, Newfoundland, July 10, flying direct to Great Britain along with two tankers from VMGR-252.
Once across the ocean, the aircraft will be turned over under a lease agreement to manufacturer Bell Boeing, who will operate the aircraft in the Royal International Air Tattoo and Farnborough International Air Show July 14-23. Farnborough and the Tattoo will be the Osprey's first international air show appearances since 1995.
The Marine Corps, however, is interested in other firsts. "This will be the first time that an assault support aircraft has ever flown across the Atlantic," Taylor said. It will also be the first time in more than 20 years that Marine Corps KC-130s have supported a transatlantic deployment, he said.
"This is invaluable as far as establishing the tactics, techniques and procedures for these types of missions in coordination with the KC-130s," Seymour said. "We're writing the book on how to do this."
The Marine Corps is using the opportunity to fly to England as a prudent first step to gain experience and refine skills, Taylor said, before VMM-263 takes the aircraft across the ocean into a theater of battle.
In March, Marine Medium Tiltrotor Squadron 263 (VMM-263) was established as the world's first tiltrotor combat squadron. They began receiving Ospreys in May, and will deploy with the MV-22 after the aircraft reaches initial operational capability in summer 2007.
Under the current program of record, the Marine Corps will purchase 360 MV-22s for missions including amphibious assault, ship-to-objective maneuver and sustained operations ashore. The Ospreys will ultimately replace all CH-46E and CH-53D helicopters for the Corps, delivering twice the speed and three to five times the range as those platforms. Manufacturer Bell Boeing began delivering the Block B combat configuration of the Osprey in December 2005.
Secretary of the Navy Dr. Donald C. Winter flew with VMX-22 earlier this year, to evaluate the aircraft first hand.
"The significance of this program to the Naval services is not about hardware or technology," Winter said. "It's about what it will mean to our people. The Osprey can deliver Marines to battle more safely, bring them reinforcements over greater distances in greater numbers, and evacuate wounded more quickly. That all equates to lives saved, as we continue to prosecute the global war on terrorism."