Friday March 23, 2007 :
The Royal Australian Navy Selects The A109 Power For Training
UK / Italy : ( AgustaWestland Press Release ) - AgustaWestland and Linfox are proud to announce that the Royal Australian Navy (RAN) has chosen the A109 Power light twin helicopter to provide its aircrew with improved training capabilities. Three helicopters will be dedicated to operational conversion training for air crew transitioning from the AS350 Squirrel to the heavier Sea King, Seahawk and Seasprite aircraft. The aircraft will also be used for training pilots to perform shipborne operations. The helicopters will be leased by Raytheon Australia to the Royal Australian Navy who will use the aircraft at HMAS Albatross, Nowra, New South Wales, under a four-year contract.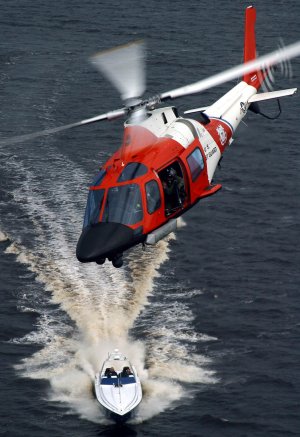 The A109 Power and LUH variants have all the attributes of larger military helicopters that make it an ideal trainer for aircrew that will transition to helicopters such as the NH90, EH101, AW139, Cougar and S-70. The A109 has twin Full Authority Digital Engine Control (FADEC), retractable wheeled landing gear, modern IFR capable cockpit and high performance flight characteristics. The spacious cabin with large sliding doors also enables it to be used for SAR and gunnery training.
The A109 Power's modern cockpit is single or dual pilot IFR capable and is equipped with liquid crystal multifunction displays and a 3-axis duplex autopilot. Predictable, forgiving handling together with high levels of power reserve, clear cockpit visibility and good ergonomics ensure a user friendly and safe environment for the student and instructor. Fail safe design features and built in redundancy, together with crashworthy seating and fuel system, further enhance the A109 Power's high levels of safety.
The A109 Power has been already selected for training applications by the Swiss Defence Procurement Agency and the British Empire Test Pilots' School (ETPS), while the A109 LUH is in service with the Swedish Armed Forces performing training and other roles. The selection of the A109 Power by the Royal Australian Navy to meet its advanced training requirements reinforces its position in the helicopter training market.
Linfox is one of Australia's largest privately owned companies with 9,000 skilled personnel providing supply chain management solutions to many of South East Asia's and Australia's largest organisations.

News: USCG MH-68 / A109 Fleet Yields Fast Pay-Off ( Mar 22, 2002 )