Wednesday October 31, 2007 :
AgustaWestland AW109 Power Helicopters Ordered By Ministry Of The Interior Of Latvia Enter Service
UK / Italy : ( AgustaWestland Press Release ) - AgustaWestland is pleased to announce that the two AW109 Power light twin helicopters ordered by Ministry of the Interior of Latvia for State Border Guard have entered service.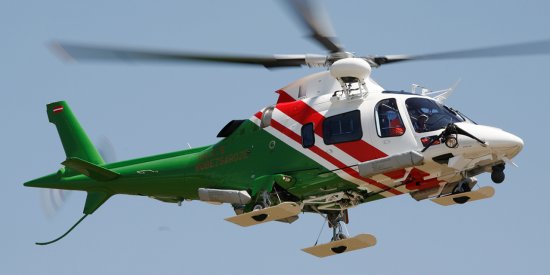 Operational readiness was officially announced during a ceremony held in Ludza on October 26th celebrating the fifth Anniversary of the State Border Guard Aviation Service and the opening of new Ludza Base's facilities. Minister of Interior of Latvia Mr. Ivars Godmanis, Chief of State Border Guard of Latvia General Gunars Dabolins and delegations from Finnish, Estonian, Lithuanian, Polish, German, Slovenian, Russian and Belarusian Border Guard services attended the event.
These AW109 Powers will be used by the State Border Guard Aviation Service for patrolling the eastern European border and other law enforcement missions. Procurement of the helicopters is being financed by the European Community using Schengen Facility programme funds. The Border Guard helicopters will be equipped with latest generation FLIR, radar, dedicated mission console, rescue hoist, search light and a Night Vision Goggles compatible cockpit.
The beginning of operational activities of the Latvian State Border Guard's AW109 Powers follows the one of the first AW139 medium twin helicopter operated by Estonia Border Guard which entered service this month, demonstrating AgustaWestland's commitment to provide European Union State members with state-of-the-art technology and a complete range of products and services to meet the most stringent requirements for homeland security purposes.
The AW109 Power is a highly versatile twin engine helicopter that is used for a wide range or commercial and government roles and offers the highest levels of performance with low operating costs. Ensuring superior speed, capacity, productivity and ease of maintenance, it sets the new standard in its class in the world market to an extent that it can be considered as the fastest twin with the lowest cost per nautical mile. Thanks to its features, the AW109 Power is perfectly suited for homeland security, patrolling and law enforcement duties offering all weather capability, high availability rates, low environmental impact, value for money in both acquisition and operating costs, safety for the crew and the public they serve. The AW109 Power can be endowed with an impressive range of dedicated equipment tailored on a customer demand basis. The ability to change the interior configuration ensures exceptional versatility to support the role.
The AW109 Power has been selected for border guard, homeland security and law enforcement tasks by agencies from several countries such as Italy, UK, USA, China, Japan, Libya, Chile. Nearly 430 helicopters have been ordered to date for both commercial and government purposes from almost 50 countries. The AW109 Power range of roles also includes VIP/corporate, harbour pilot shuttle, maritime applications, emergency medical service, training.

news: First AW139 for Ministry Of The Interior Of Estonia Oct 16, 2007