WEdnesday December 12, 2007 :
Sasemar Takes Delivery Of Its First Two AW139 Helicopters
UK / Italy : ( AgustaWestland Press Release ) - AgustaWestland is pleased to announce that the first two AW139s purchased by Sasemar, the Spanish Marine Safety Agency, have been delivered to the customer during a ceremony held on December, 7th, at AgustaWestland's Vergiate plant in Italy. Sra. Doňa Magdalena Alvarez Arza, Ministra de Fomento, attended the event to receive the helicopters. These two helicopters are part of the initial contract for three AW139s signed by Sasemar in February 2006. A follow on order for two additional helicopters was placed in October this year, confirming the customer's confidence in the AW139 to meet its future requirements.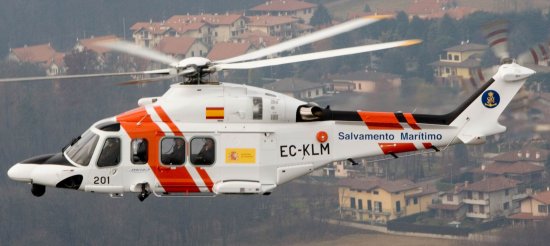 Sra. Doňa Magdalena Alvarez Arza, Ministra de Fomento, commented during the ceremony "The AW139 features state-of-the-at technology and impressive performance to meet our task requirement. The operational readiness of these first two helicopters will dramatically improve Sasemar's capability in successfully accomplishing its duty".
Giuseppe Orsi, AgustaWestland CEO, added "We are delighted and proud to provide the Spanish Marine Safety Agency with the most advanced and best selling medium twin in its class. Sasemar will benefit from the advanced capabilities of the AW139 which will deliver greater operational capabilities. We are committed to offering the best helicopters for life saving and environment protection".
Sasemar's AW139s will be used for a range of roles including SAR and water pollution detection. The aircraft are equipped with a dual rescue hoist, Forward Looking Infra-Red (FLIR) camera, search/weather radar, emergency flotation system and a four-axis autopilot complete with SAR modes. With the largest cabin capacity of any helicopter in its weight class and exceptional performance the AW139 is ideally suited for SAR operations both overwater and overland.
The AW139 has become the benchmark medium-twin helicopter and orders for more than 300 helicopters have been placed by nearly 90 commercial and government customers from over 30 countries to carry out a number of roles including search and rescue, emergency medical services, offshore transport, VIP/corporate transport, law enforcement, homeland security and military utility transport.

news: Sasemar Orders Two Additional AW139 Helicopters Oct 9, 2007