Monday June 18, 2007 :
South African Super Lynx 300 At Paris Air Show
UK / Italy : ( AgustaWestland Press Release ) - A Super Lynx 300 helicopter destined for the South African Air Force is making its debut appearance at the Paris Air Show this week prior to being delivered to Air Force Base Ysterplaat in South Africa next month. The helicopter, one of four ordered in 2003, represents the latest variant of the Super Lynx – the world's most successful small ship helicopter.
All four Super Lynx 300 Mk 64 aircraft for South Africa, which will be operated by the Air Force for the Navy, are planned to be delivered to South Africa during July. Pilot and ground crew conversion training was completed in May 2007 by AgustaWestland at its Customer Training Centre in Yeovil and a team comprising a pilot, two service engineers and an In-service manager from AgustaWestland will be assisting the South African Air Force during its introduction into operational service. The aircraft will be deployed on the South African Navy Valour class frigates performing anti-surface warfare, maritime patrol and SAR roles.
The fully marinised Super Lynx 300 aircraft for South Africa are equipped with a range of advanced sensors including a Telephonics APS-143B 360 degree scan search radar, a nose mounted FLIR from Denel Optronics and an advanced Electronics Support Measures system from Sysdel CC. The aircraft also have a comprehensive communications suite sourced from South Africa comprising HF, V/UHF radios and a data link making them the most advanced version of the Super Lynx 300 helicopter developed and produced so far.
South Africa will become the fourth operator of the Super Lynx 300 following Malaysia, Thailand and Oman who operate the aircraft in a range of maritime and land based roles. The Super Lynx 300 is the latest version of the Lynx helicopter family of which over 420 have now been ordered by 17 customers around the world.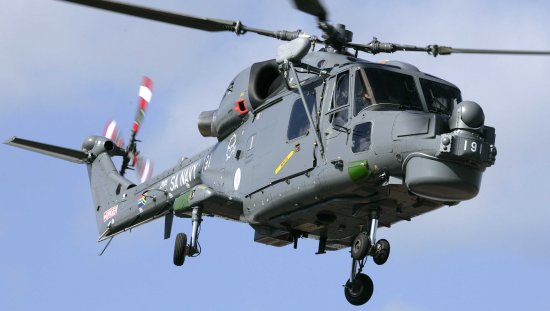 The Super Lynx 300 is powered by two 1015 kW (1361 shp) LHTEC CTS800-4N engines giving it exceptionally good hot weather and single engine performance. Flight and sensor information is displayed on a fully integrated six screen colour LCD cockpit display system, enabling greater crew effectiveness.