Thursday April 4, 2008 :
AgustaWestland AW139 To Start Search And Rescue Operations In The UK
UK / Italy : ( AgustaWestland Press Release ) - AgustaWestland is pleased to announce the introduction of the AW139 helicopter into the Maritime and Coastguard Agency's search and rescue service. Three helicopters provided by CHC Helicopter Corporation will serve the UK Maritime and Coastguard Agency under an interim contract through to 2012 operating from bases at Lee-on-the-Solent and Portland on the South coast of England.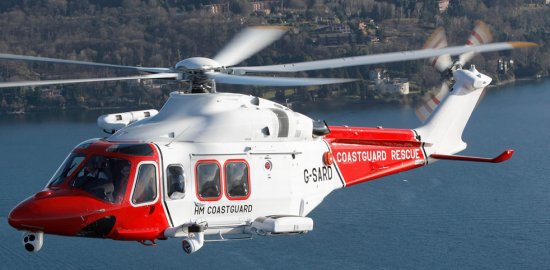 Unmatched levels of performance, capacity, safety, operational availability, serviceability, economy and state-of-the-art technology have made the AW139 the benchmark in its class. A much higher cruise speed than older generation helicopters combined with modern SAR equipment will provide the UK Maritime and Coastguard Agency with a highly effective and efficient SAR capability.
A large number of operators including Sasemar of Spain, Japanese Coast Guard, Korean Coast Guard, Italian Coast Guard, Norwegian Ministry of Justice, Estonian Border Guard, UAE Air Force as well as operators in Africa and the Middle East are already operating the AW139 in the SAR role or have ordered aircraft. The AW139's performances and features make it the ideal contender for the next UK search and rescue requirement.
Orders for more than 330 AW139s have been placed by nearly 90 commercial and government customers in over 30 countries to carry out a number of roles including search and rescue, emergency medical services, offshore transport, VIP/corporate transport, law enforcement, homeland security and utility transport.

news: Sasemar Takes Delivery Of Its First Two AW139 Dec 12, 2007