In 1940, Hitler's Kriegsmarine (German Navy) made a request for a naval helicopter for operate from its units. Derivative from the Flettner FL 265, the FL 282 deliveries begun in 1942 and the next year, 20 prototypes were in service.

The model demonstrate to be very effective so plans for 1000 units where approved but being a Navy aircraft had little claim on production facilities and they were finally aborted due allied bombs to the BMW and Flettner factories.

32 preproduction aircraft were delivered, and three were taken home as war booty by Russia and the United States.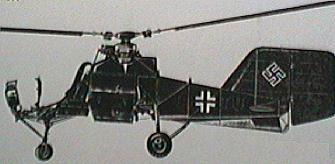 Engine: 1 radial engine Bramo Sh 14A
of 7 cylinders with 160 hp
Speed: : 150 km/h
Service Ceiling: 3300 m
Range: 170 km

Weight: Empty: 760 kg -- Max: 1000

Width: 25.55 m
Length: 6.56 m
Height: 2.20 m
Rotor Span: 11.96 m
Disc Area: 224 m2 each


See Also:
Anton Flettner