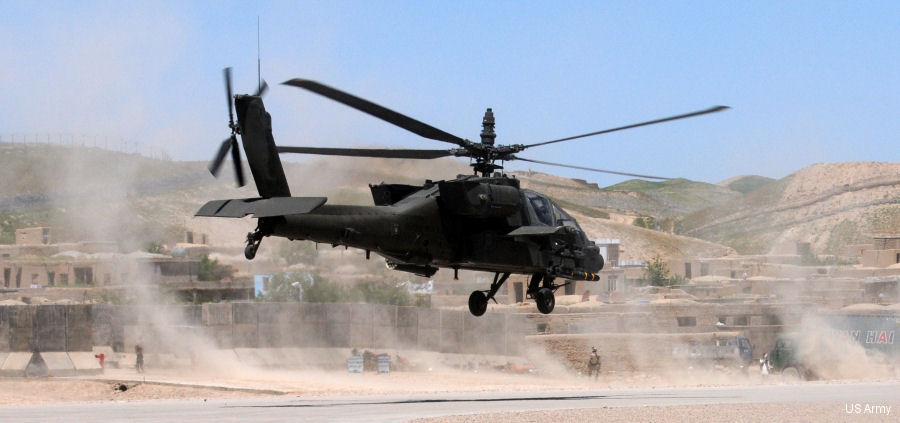 From January to July 2002, our company was deployed to Afghanistan in support of Task Force Rakkasan for Operation Enduring Freedom. We are an AH-64A attack helicopter company assigned to the 101st Airborne Division (Air Assault).

During the deployment, we were exposed to a wide range of temperatures, a variety of flight environments, and altitude extremes that we had never operated in before.

We arrived in Afghanistan near the end of January and were based out of Kandahar International Airport. Kandahar is approximately 3,500 feet mean sea level (MSL) and can be characterized as high desert. The terrain is relatively flat with rolling sand dunes 10 miles west and a mountain range approximately 15 miles to the north. Temperatures during January were mild with an average daytime temperature of 12 to 15 degrees Celsius (53º-59ºF).

During the winter months at Kandahar, our aircraft performed well. We had six aircraft equipped with T700-GE-701C engines and two equipped with T700-GE-701 engines. On a daily basis, we had power available to hover out of ground effect (OGE). Even though we had OGE power, we still had to pay close attention to our TGT because we were operating close to dual engine automatic TGT limiting. We knew that it would not be long before power was a luxury that we would not have.

Within three weeks of our arrival, our missions started taking us to higher and higher altitudes. Prior to my arrival in Afghanistan, I had never been above 10,000 MSL in an Apache. Our first mission took us from Kandahar to Bagram Airbase to refuel and then on to the eastern city of Khowst. While en route to Khowst, we crossed a snow-covered mountain at 11,500 MSL. The free air temperature was -15 degrees Celsius (5º) when we crossed the peak.

While climbing to cross the peak, I applied my maximum torque available from my PPC and noticed that I was not close to TGT limiting. I slowly increased the power until I drooped the rotor and then decreased the collective. I still had not reached TGT limiting, but the droop in rotor RPM was the result of fuel flow limiting. I knew fuel flow limiting existed and how to attain the information from chapter seven of my operator's manual, but had never been exposed to it before.

By the end of April, the temperature at Kandahar was nearing 100 degrees Fahrenheit. We had power to hover in ground effect (IGE), but we no longer had power to hover OGE. We had already conducted numerous missions to include Operation Anaconda. We had fought at altitudes from 8,200 MSL to 10,500 MSL using running fire tactics. The racetrack patterns and running fire tactics we utilized were necessary due to insufficient power to hover and to increase our own survivability.

Performance planning was a critical part of each mission. Each mission required performance planning for altitudes, temperatures, and gross weights that were much higher than we normally operate. During our missions in Afghanistan, we had two aviators assigned to our performance-planning cell. This cell always contained at least one of the unit instructor pilots.

By the time we left Afghanistan, we had operated at altitudes from 3,500 MSL to 12,500 MSL. We had operated in temperatures from -15 degrees Celsius to temperatures in excess of 50 degrees Celsius (122ºF). We quickly learned that power management was a skill necessary to survive our deployment. We adapted to this environment well, but were fortunate to have a wealth of experienced aviators in our company. A valuable lesson learned from this deployment is that units should focus early on power management issues and train accordingly so that they are prepared when deployed.


See also:

AH-64 Apache