The
Societe Nationale Industrielle Aerospatiale
, was ranked at the top of the european aerospace industry in terms of turnover, manpower and the range and quality of its products. It designs and build a comprehensive line of aerospace hardware, from the light utility plane to the Airbus widebody, from light helicopters to the heavy lift twin-engine troop carrying version, from the man-portable antitank missile to the strategic ballistic missile, from weather satellites to the Ariane launcher and the Hermes spacecraft. In 1992, merged with german Daimler Benz Aerospace AG (DASA) to create
Eurocopter
and in 2000, becomes part of the European Aeronautic Defence and Space Company (
EADS
)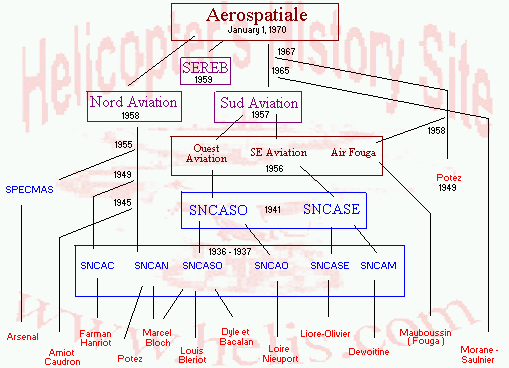 1947: Sud-Ouest SO 1100 Ariel
The first Sud-Ouest helicopter, was an all metal, two-seat with Tip jet powered rotors.

June 15, 1948: Sud-Est SE 3101
Developed by the German aviation pioneer Henrich Focke, it as an xperimental model for testing a new twin-rotor anti-torque stabilizer. The sole SE3101, F-WFDQ, is preserved at Le Bourget.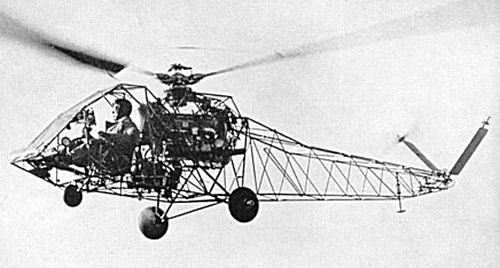 October 23, 1948: Sud-Est SE 3000
A twin-rotor six-seat model developed from the German Focke-Achgelis Fa 223. Used a welded steel-tube fuselage with cantilever outriggers extending outward and upward from each side of the fuselage to carry the twin-three blades rotors. The power plant was a Bramo Fafnir BMW 323 R2 fourteen-cylinder two-row radial air-cooled engine developing 1000 hp. The crew of two was accommodated in a fully-glazed cockpit with the four passenger cabin behind. A small power-driven crane was fitted for lifting or for rescue work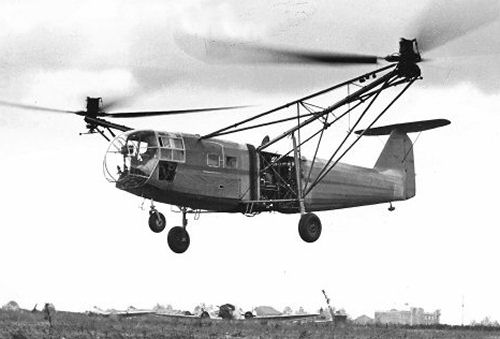 March 23, 1949: Sud-Ouest SO 1110 Ariel II
The Ariel still used the 190 hp piston engine with Turbomeca compressor but with a modified tail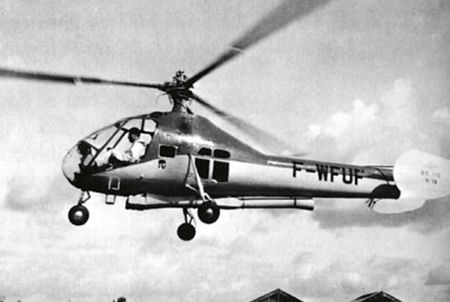 June 10, 1950: Sud-Est SE 3110
Development from the 1948 SE3101, was a two seat helicopter with double butterfly twin angled tail anti rotors.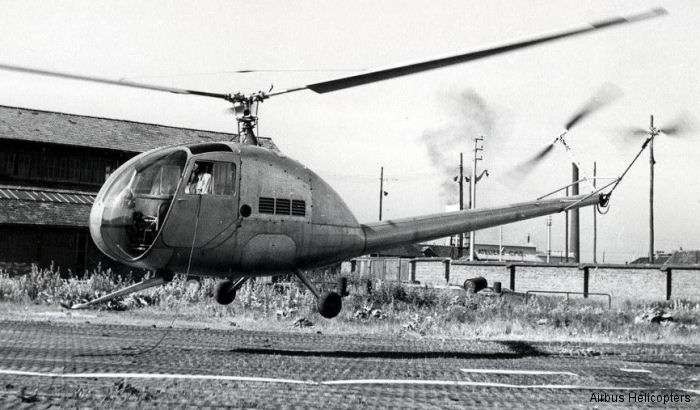 April 18, 1951: Sud-Ouest SO 1120 Ariel III
The last Ariel was a three-seat variant with a 275 hp Turbomeca Artouste I combined turbine-compressor.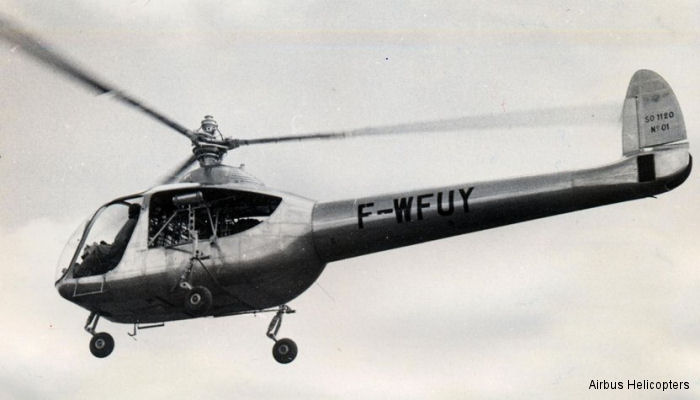 July 31, 1951: Sud-Est SE 3120 Alouette
One unit was built and used as the Alouette II 's prototype. Made world record in close-circuit for a helicopter remaining 13 hs 56 minutes in flight.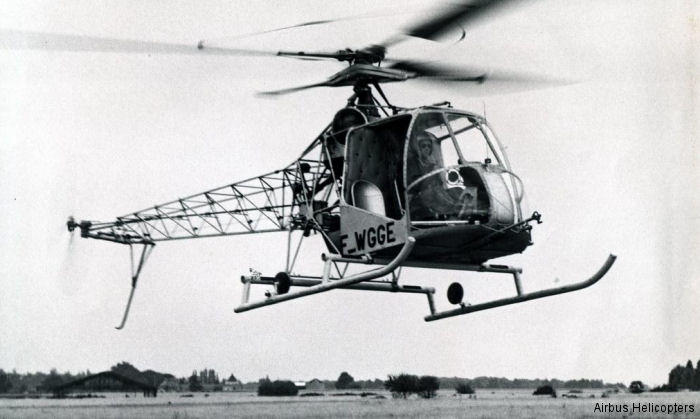 January 2, 1953: Sud-Ouest SO 1220
First flight of the Djinn prototype.

December 16, 1953: Sud-Ouest SO 1221 Djinn
Developed from the Ariel models, the Djinn was one of the first successes of the French aeronautical industry with 178 units built for 10 countries.
The Engine was a Palouste gas generator to power the tip jets. The aircraft had no electrics and the engine was started by hand with a large starting handle sticking out of the starboard side. .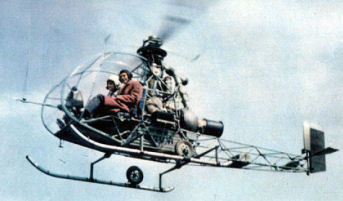 December 29, 1953:
Jean Dabos with the SO 1220 Dijnn established international altitude record for helicopters weighing less 500 kg reacheing 4,789 meters / 15,711 feet.
Later on, in 1957, he beat the record in all categories reaching an altitude of 8,492 meters / 27,860 feet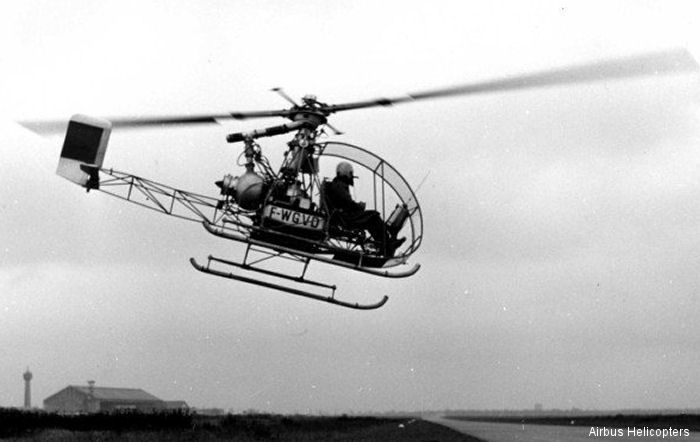 1954 :
The US Army received 3 Djinn called
YHO-1

March 12, 1955: Sud-Est SE 3130 Alouette II
First world's turbine helicopter to enter production
Alouette 2 Production List