Giovanni Agusta was one of the pioneers of the Italian aeronautical industries. He built his first aircraft in 1907 and in 1923 he founded Construzioni Aeronautiche Agusta Spa. In 1952 he started building licensed helicopters, first from
Bell
, and then from
Sikorsky
and then the company started with its own models.

1907 :
Giovanni Agusta built his first plane

1923 :
Giovanni Agusta founded Construzioni Aeronautiche Agusta Spa.

1952 : Agusta-Bell AB 47
Agusta acquired the license of the Bell 47

October, 1953 : Agusta A 103
First step from the Bell 47 to an own model. Only prototype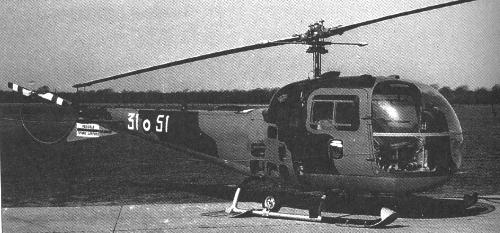 February 3, 1959 : Agusta A 102
Based on the Bell 48 (a larger Bell 47) was a eight-seat piston powered helicopter.
Two production examples were built and used in regular air service between Torino and Milano in the 1960s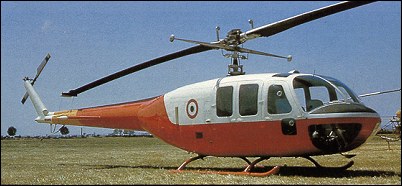 December 1960 : Agusta A 104 Helicar
Two seats development of the A 103. Two piston-engined prototyes were built, followed by a single example of a turbine-engined variant designated
A 104BT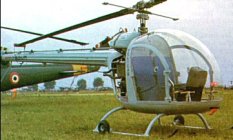 1961 : Agusta A 115
This 4 seats development of the Bell 47, was powered with a Turbomeca Astozou. Only prototypes

May 1961 : Agusta-Bell AB 204
The legendary
Huey
( UH-1B ) was produced in Italy too
AB204 production list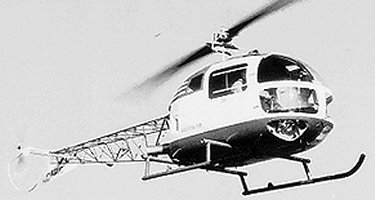 October 19, 1964 : Agusta A 101G
This advanced model was capable to carry 35 passengers or 5000 Kg , but it suffers the technological limitations of its time and only 3 units were built
Rotor diameter: 20 m
Length: 18 m
Height: 5 m
Weight: 6400 kg - Max: 12900
Engine: 3 Bristol Siddeley
Gnome of 1250 hp each
Speed: Max: 180 km/h
Range: 400 km
Service Ceiling: 2600 m
Disc Area: 311 m2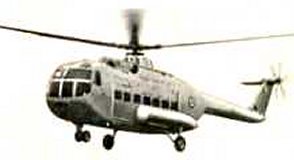 Other version said that the A 101G was constructed as a bargaining chip to force Vertol to give Agusta a license to build the CH-47 Chinook. They told Vertol that if the license was not granted, they would put the A 101G into production and sell it to military organizations in Europe that would otherwise buy CH-47's. Their plan worked and they never put the A 101G into production. Later when Agusta joined with Westland to build the Merlin, Agusta won a contest with Westland to designate the Merlin as the EH 101.

1965 :
Bell 47 sub license is granted to British
Westland
.

November, 1965 : Agusta A 106
Single seat antisubmarine helicopter capable of carrying 2 torpedoes. Two prototypes (MM5001N & MM5002N) were built but the pre-production batch of 5 was cancelled by the Italian Navy in 1973.
Rotor diameter: 9.5 m
Length: 10 m
Height: 2.50 m
Weight: 590 kg - Max: 1400
Engine: 1 Turbomeca TAA230 of 300 hp
Speed: Max: 170 km/h
Range: 740 km
Service Ceiling: 3000 m
Disc Area: 70 m2