1966 : Agusta-Bell AB 205
The next version of the
Huey

1967 : Agusta-Sikorsky AS 61
Agusta starts building the
Sikorsky S-61 Sea King
under license.

1967 : Agusta A 109
Project begun

1968 : Agusta A 120B / A 123
The first was a high speed medium range compound transport model powered with 3 GE turbines of 3400 hp each. The A 123 was another compound helicopter but with 2 Lycoming of 1800 hp each.
Both projects were cancelled.

1968 : Agusta-Bell AB 206
One of the most world popular helicopters, the
Jet Ranger

1969 : Agusta A 109B
First military version, cancelled

1971 : Agusta-Bell AB 212
Bell 's twin-engine version of the Huey, the Twin Two Twelve

August 4, 1971 : Agusta A 109C Hirundo
A 109A Mk 2
Rotor diameter:
11 m
Length:
13 m
Height:
3.30 m
Weight:
1790 kg - Max: 2600
Engine:
2 Allison 250 of 420 hp
Speed:
Max: 280 km/h
Range:
550 km
Service Ceiling:
4450 m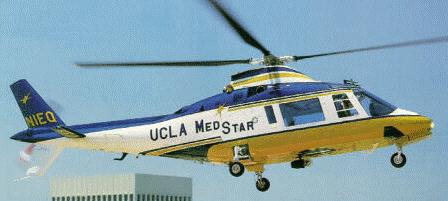 1973 :
AB 212ASW
An AB212 optimized for naval warfare. It has provision for an Emerson Dual Flexible Turret System for machineguns or a cannon, and carries up to 500 kg of disposable stores carried on two hardpoints one on each side of the fuselage, typically comprising Mk 46 torpedoes and Sea Killer anti-ship missiles.

1973 : Agusta-Sikorsky HH-3F
The
Sikorsky S-61R
variant.

1976 :
First production model A 109 delivered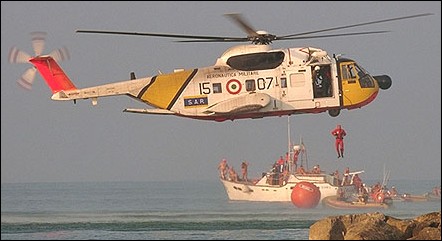 1978 : Agusta A 129
Project begun

1980s : Agusta A 139
Agusta was near to sign a join-venture to the argentine FMA ( Aviation Military Factory, at that moment part of the Argentine Air Force, now part of Lockheed ) to built a civilian helicopter development of the A129 but the project was cancelled due funds problems.

1981 : EH industries
A Join-Venture with
Westland
. The
EH-101 Naval helicopter
project begun

1981 : Agusta-Bell AB 412
The four bladed main rotor of the Bell 212

1983 : Agusta-Bell AB 412 Griffon
The military variant of the AB 412

September 15, 1983 : Agusta A 129 Mangusta ( Mongoose )

1985 : Agusta A109K

1985 :
Model A 109 number 300 take-off

1987 : Agusta ASH-3H
Improved variant of the ASH-3D Sea King