Founded in 1947 by Mikhail Leontyevich Mil , who was involved with soviet gyroplanes and helicopters from 1929 until his dead on January 31, 1970, aged 60. By 1999, more than 30000 helicopters of Mil design were built.
The Moscow helicopter plant built in 1947 has created fifteen helicopter types (with more than 200 variants), which during that time have achieved 96 global records. Today, every fourth helicopter in the world is of Mil construction or origin.
In Russia, the CIS s countries and Eastern Europe, Mi helicopters represent 95% of all helicopter fleet. Mil has exported more than 7000 helicopters for a sum amounting to more than u$s 20,000,000,000, and if one includes service and spare, this amazing figure is doubled.
The extensive use of Mi helicopters in the difficult regions of Siberia has allowed Russia to become and maintain its position as one of the largest producers of petroleum and gas.
Even in the difficult economic situation, which prevails in Russia today, the Mil plant in Moscow remains one of the world s leading helicopter production facilities. The fundamental tasks associated with the design and development of new helicopters have continued, while the work concerned with modernization and life cycle extension has not been neglected, and both existing and future Mil designs can be expected to include many innovative features.
The Moscow plant has maintained all the tradition associated with its founder Mil Mihail Leonteivich, while continuing to modernize both the plant and the company culture, to improve production and retain the position of a world leader.
What can be assumed without doubt is that whatever the Mil helicopter plant in Moscow has achieved in the past is still thriving at this moment and will continue to create reliable, inexpensive and modern helicopters.

August 1948 : Mi-1 Hare
First helicopter to enter series production in the Soviet Union. It was also produced in Poland as WSK SM-1
Rotor diameter:
14.34 m
Length:
12 m
Height:
3.30 m
Weight:
1760 kg - Max: 2550
Engine:
1 Ivchenko AI-26V of 575 hp
Speed:
Max: 205 km/h
Range:
590 km
Service Ceiling:
2000 m

1951 :
The Mi-1 began service in the Soviet Union

1952 : Mi-4 Hound
First heavy helo of the Mil bureau, the Mi-4 was also produced in China as
Z-5
. Very similar to the
Sikorsky S-55
but much bigger. Only in the Soviet Union were build more than 3500 units
Rotor diameter: 21 m
Length: 16.79 m
Height: 5.18 m
Weight: 5390 kg - Max: 7800
Engine: 1 Shvetsov ASh-82V
of 1700 hp
Speed: Max: 210 km/h
Range: 590 km
Service Ceiling: 6000 m



1956 : Mi-3
Improved version of the Mi-1, not produced.

June 5, 1957 : Mi-6 Hook
This big transport, the first turbine powered helo of the Soviet Union, was not only for a long time the biggeset helicopter of the world, but also the fastest. More than 800 units, which can carry up to 70 troops, were built.
Rotor diameter: 35 m
Length: 41 m
Height: 9.8 m
Weight: 27240 Kg. - Max: 42500
Engine: 2 Soloviev D-25V of 5500 hp each
Speed: 300 km/h
Range: 620 km
Service Ceiling: 4500 m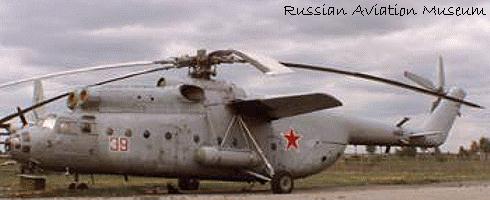 1961 :
The Mi-6 is the first world helo to reach the 300 km/h so its win the international trophy Igor Sikorsky

June, 1961 : Mi-8 Hip
The standard medium transport helo of the Soviet Union and other 40 countries, the Hip grows from the Mi-4 and became, together with its derivatives Mi-14 / 17 the most prolific non-western helicopter to enter service with more than 10000 units built.